Verschaffeltia splendida
From Palmpedia - Palm Grower's Guide
Verschaffeltia
(vehr-shaf-FELT-ee-ah)
splendida (splehn-DEE-dah)

New Leaf, Hawaii.
Scientific Classification
Genus:
Verschaffeltia
(vehr-shaf-FELT-ee-ah)
Species:

splendida (splehn-DEE-dah)
Synonyms
None set.
Native Continent
Africa
Morphology
Culture
Survivability index
Common names
Seychelles Stilt Palm, Latanier Latte.
Habitat and Distribution
Verschaffeltia splendida
is Endemic to the Seychelles. This canopy or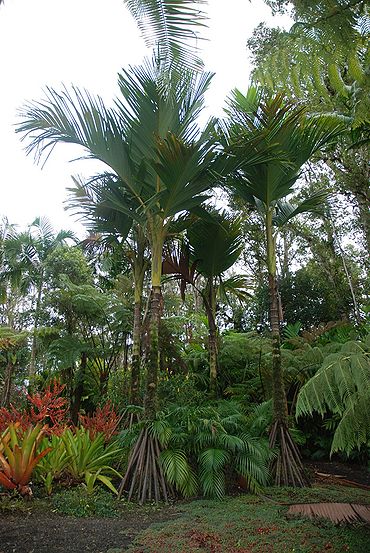 under-story tree grows in moist tropical forests, on steep hillsides and ledges, from near sea level up to 850 m altitude, and is common above 300 m.
Description
Erect palm up to 25 m tall, usually much shorter. Trunk smooth but scarred where leaves have fallen; spiny when young; rings of dark spines pointing downwards at top of trunk on older trees; numerous aerial roots at the base. Leaves up to 3 m long with bi-lobed apex. Leaf stalks (petioles) spiny on young trees only. Flower stalks (inflorescences) up to 2 m long, drooping beneath leaves of crown. Fruits spherical, brownish-green becoming red when mature.
The distinguishing feature of this palm from the Seychelles, is the stilt roots supporting the slender stem. The leaves split along the margins irregularly with age, and may appear pinnate. The dark brown fruit that are produced on hanging infructescences are 2-3 cm long. (James Cook University) Editing by edric.
Culture
Tropical in its requirements, but will grow in a sheltered position in the sub-tropics. Likes a position sheltered from the wind, (to keep the leaves intact), full sun or shade, and moist, but well drained soil.
Cold Hardiness Zone: 10b firm.
Comments and Curiosities
This is a monotypic genus.
Uses: The timber from this palm was historically used for the production of water gutters and the walls of huts.
Conservation: Verschaffeltia splendida has a very restricted range as it occurs only on three islands in the Seychelles. It does not seem to be obviously threatened except by its restricted range. The invasion of alien plant species and habitat loss due to human settlements are potential threats to this species, but it does not seem to be strongly affected by these threats. It is listed as Near Threatened, because of the gradual reduction of its natural habitats from the invasion of alien plants such as true cinnamon (Cinnamomum verum) and Malabar plum (Syzygium jambos).
"Magnificent palm with spiny trunk, large, mostly unsplit wide leaves and ALWAYS has stilt roots. This is the priemier stilt root palm to grow in the tropics- it's a reliable and relatively fast grower there (hopeless here in southern California). In its native Seychelles, it can grow up to 80', high on steep, moutain slopes." (Geoff Stein)
A beautiful species from the Seychelles that sports a slender, spiny trunk, supported by prominent stilt roots, and large, undivided leaves. The large seeds are easy to germinate and the seedlings are fast growing. They are best in a humid, warm subtropical or tropical climate but can also easily be kept indoors in containers. For a more cool tolerant alternative see Astrocaryum alatum. (RPS.com)
External Links
References
Phonetic spelling of Latin names by edric.
Special thanks to Geoff Stein, (Palmbob) for his hundreds of photos, edric.
Special thanks to Palmweb.org, Dr. John Dransfield, Dr. Bill Baker & team, for their volumes of information and photos, edric.
Glossary of Palm Terms; Based on the glossary in Dransfield, J., N.W. Uhl, C.B. Asmussen-Lange, W.J. Baker, M.M. Harley & C.E. Lewis. 2008. Genera Palmarum - Evolution and Classification of the Palms. Royal Botanic Gardens, Kew. All images copyright of the artists and photographers (see images for credits).

Many Special Thanks to Ed Vaile for his long hours of tireless editing and numerous contributions.