Rhopalostylis baueri
From Palmpedia - Palm Grower's Guide
Rhopalostylis
(rope-ah-loh-STIGH-liss)
baueri (bough'-ehr-ee)

Photo Locations: Lotusland - Santa Barbara, CA. and Strybing Arboretum - San Francisco, CA. Photo: selectree.calpoly.edu
Scientific Classification
Genus:
Rhopalostylis
(rope-ah-loh-STIGH-liss)
Species:

baueri (bough'-ehr-ee)
Variety:
Rhopalostylis var. cheesemanii
Synonyms
None set.
Native Continent
Oceania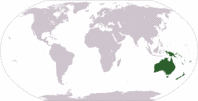 Morphology
Culture
Survivability index
Common names
Norfolk Island Palm.
Habitat and Distribution
Rhopalostylis baueri
is found on the Kermadec Is., Norfolk Is., and is a species of Indigenous palm, Kermadec nikau (N.Z. only),
in New Zealand known only from Raoul Island (Kermadec Islands group). Also on Norfolk Island, its type locality.. In New Zealand known only from Raoul Island (Kermadec Islands group). Also on Norfolk Island, its type locality. to Norfolk Island (Australia) and to the KermadecIslands (New Zealand). On Raoul Island in the Kemadecs though always abundant, the palm has, following the successful eradication of rats four years ago has greatly expanded its range. On Norfolk Island it now occupies a small range in the centre of the island near the National Park, where the species is somewhat threatened by rats that eat the fruit and young seedlings. It is rare elsewhere on the island. Abundant in both dry and wet forest types on Raoul Island where it sometimes is the main canopy dominant. (nzpcn.org)
Description
Rhopalostylis baueri reaches 12 m or more in height. The pinnate leaves are 3 to 4 m long, on a stout, erect petiole (leafstem) approximately 20 cm long. The crownshaft is 50-60 cm long. The inflorescence is 30 50 cm long and has from 50 to 60 fairly stout branches. The fruits are green at first, turning a bright red when ripe, and are a favorite food of the endangered Norfolk Island Parakeet. The growing tip of the palm was used by early settlers as a vegetable and is said to have tasted like a nut when raw and like an artichoke bottom when boiled. It is much faster growing than the New Zealand nikau, Rhopalostylis sapida. There is a Rhopalostylis bauer which is on the notable tree list 2002 beside the Cricket Pavilion at Pukekura Park.
read more
Trunk up to 15 m tall, and 0.35 m wide, green to dark green fading to grey with age between rather closely spaced leaf-scars; crown-shaft to 0.80 m long, smooth and green, slightly bulging. Leaf to 3 m long, usually dark green; leaflets closely set, ascending sharply, up to 1 m long and 40 mm wide. Spathes c. 380 × 150 mm, between pink and yellow, smooth, falling as first flowers open. Ultimate branches of inflorescence to 300 mm long, c.15 mm diameter with buds on, at first pale cream-coloured; flower-buds tightly packed. Sepals short, the longest one in male rarely = petals; petals white or pink. Fruit c. 13 × 12 mm, subglobose to globose brick-red. Seed Seed almost spherical, tightly invested in pale fawn endocarp which is marked by several vascular strands curving ± obliquely from hilum and only a few running longitudinally; hilum a broad band from the slightly flattened chalazal area to a pronounced papilla beside the micropyle. (nzpcn.org)
Culture
In the southern hemisphere outside its habitats, R. baueri is cultivated in mainland New Zealand as a faster-growing alternative to the otherwise similar R. sapida, the Nikau Palm, the only other species in the genus Rhopalostylis. It is also grown in the Australian states of New South Wales, Queensland, Victoria, and Western Australia. In the northern hemisphere excellent cultivated specimens are found on the coasts of the southeastern Azores and Madeira, which offer similar climates to those of the species' origin. The species is also grown outdoors in coastal California, Hawai'i, continental Portugal and Spain, the Canary Islands, and in parts of the Mediterranean basin (e.g., Palermo, Italy).
PROPAGATION TECHNIQUE: Easily grown from fresh seed. Seed should be soaked in water to remove flesh and then sown over a damp peat/coarse sand mix and left in a shaded spot (ideally in a mister) and ignored. Fruit may take up to a year to germinate. Frost tender. Plants resent root disturbance so they should be planted in a sheltered semi-shaded site and then left alone. (nzpcn.org)
Comments and Curiosities
This is a tillering palm, it exhibits saxophone style root growth (it has a heel), keep top third of heel above soil elevation!
Etymology: Rhopalostylis; From the Latin, literally, 'club style'.
read more
The palms native to Raoul Island in the Kermadecs, formerly described either as Rhopalostylis cheesemanii or R. baueri var. cheesemanii, were relegated to synonymy with the Norfolk Island R. baueri in 2005 after comparison showed no significant distinguishing characteristics.
Rhopalostylis sapida is a very variable species. It is best distinguished from R. baueri by its elliptic-oblong, smaller (mostly up to 7 mm diameter) fruit. While many New Zealand populations of R. sapida have narrower leaflets, some, especially those in the Hauraki Gulf and on the Chatham Islands have equally broad leaflets and fruit dimensions comparable to R. baueri. Rhopalostylis sapida is absent from the indigenous range of R. baueri. (nzpcn.org)
Phenology: December - January, MAIN FLOWER COLOUR: White, OTHER FLOWER COLOUR: Red / Pink, FRUITING: December - January.
Conservation: In the New Zealand part of its range it is not threatened. However, it is only known from Raoul Island, and so qualifies as Range Restricted. On Norfolk, while common it occupies a very reduced range in the centre of that island. There the species is threatened to some extent by rats which eat the fruit and germinating seedlings. (nzpcn.org)
"This solitary pinnate monoecious palm is one of the southernmost palms in the world, growing naturally on some small islands off New Zealand (Nofolk and Raoul Islands). It is very similar in appearance to the Nikau palm, Rhopalostylis sapida, but differs in having a slightly less bulbous crownshaft, a short petiole (as opposed to none at all), a lot more purply color in the rachis/petioles and a tendency for the leaves to arch more. It is usually a less robust palm, but in cultivation Nikau palms can be both skinny and robust, depending on climate and watering conditions. This is also one of the few palms that don't grow well in hot, humid climates (though did see some doing OK in Hawaii in deep shade on elevated ground)- particularly south Florida. Excellent palm however for southern California. I have had several of these and they grow well and are very ornamental palms. Not great palms for full hot inland sun, though... best to keep out of the afternoon sun in most areas except along the coast." (Geoff Stein).
One of the famous "Shaving Brush" palms of New Zealand, at home on the tiny windswept Kermadec Islands, that will grow in climates from cool temperate to subtropical, though it is probably happiest in a mild, moist climate. A large and swollen crownshaft, and ascending, pinnate leaves rising like a shuttlecock with wide, light green leaflets give it a beautiful and distinctive appearance. Strangely, it also makes a very good interior plant, tolerating low light well. (RPS.com)
External Links
References
Phonetic spelling of Latin names by edric.
Special thanks to Geoff Stein, (Palmbob) for his hundreds of photos.
Special thanks to Palmweb.org, Dr. John Dransfield, Dr. Bill Baker & team, for their volumes of information and photos.
Glossary of Palm Terms; Based on the glossary in Dransfield, J., N.W. Uhl, C.B. Asmussen-Lange, W.J. Baker, M.M. Harley & C.E. Lewis. 2008. Genera Palmarum - Evolution and Classification of the Palms. Royal Botanic Gardens, Kew. All images copyright of the artists and photographers (see images for credits).

Many Special Thanks to Ed Vaile for his long hours of tireless editing and numerous contributions.