Ptychosperma schefferi
From Palmpedia - Palm Grower's Guide
Ptychosperma (tee-koh-SPEHR-mah)
scheferi (shef'-fehr-ee)

Gardens by the Bay, Singapore. Photo by Dr. William J. Baker, Royal Botanical Garden, Kew.
Scientific Classification
Genus:
Ptychosperma (tee-koh-SPEHR-mah)
Species:

scheferi (shef'-fehr-ee)
Synonyms
None set.
Native Continent
Oceania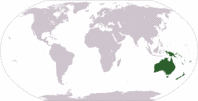 Morphology
Habit:
Solitary & clustering.
Leaf type:
Pinnate
Culture
Survivability index
Common names
Scheffer's Palm
Habitat and Distribution
Endemic to the Central north coast of
New Guinea.
Description
Small palm, solitary or clustering, growing from 4.7 to 7 m (15 to 20 ft, sometimes 25 ft) tall. It has dark green leaves, and a whitish covering on the crownshaft, The flowers are white in color and are followed by a dark purple fruit. Editing by edric.
Culture
Quite common in cultivation in the tropics.
Comments and Curiosities
Solitary variety. Just survived a 28 degree night in zone 9B, St. Petersburg Florida, without even "bronzing". Its up against a fence, but otherwise had no other protection. The specimen is about 2 years old and 4 feet tall.
Loves the alkaline soils of the Florida Keys. One of the few 'solitare' type palms that thrives here. From time to time the Keys get pretty dry...desert dry...this palm doesn't seem to mind.
"Very attractive clustering to solitary palm from New Guinea. the clumping form is particulary nice in a large clump, about the only thing you can see are the neat, perfect leaves with wide emerald green leaflets. Soliary specimens are far more ordinary looking." (Geoff Stein)
A moderately sized species from northern and central New Guinea, with clustering, slender trunks to about 7 m (23 ft.) tall. Young plants are particularly attractive with large undivided leaflets. (RPS.com)
External Links
References
Phonetic spelling of Latin names by edric.
Special thanks to Geoff Stein, (Palmbob) for his hundreds of photos.
Special thanks to Palmweb.org, Dr. John Dransfield, Dr. Bill Baker & team, for their volumes of information and photos.
Glossary of Palm Terms; Based on the glossary in Dransfield, J., N.W. Uhl, C.B. Asmussen-Lange, W.J. Baker, M.M. Harley & C.E. Lewis. 2008. Genera Palmarum - Evolution and Classification of the Palms. Royal Botanic Gardens, Kew. All images copyright of the artists and photographers (see images for credits).

Many Special Thanks to Ed Vaile for his long hours of tireless editing and numerous contributions.