Ptychosperma macarthurii
From Palmpedia - Palm Grower's Guide
Ptychosperma (tee-koh-SPEHR-mah) macarthurii (mah-kahr-thur'-ee)

"Apart from the figs, the Oriental Pied Hornbill also readily consumed the red fruits of MacArthur Palms (Ptychosperma macarthurii) growing nearby. Photo by Dr. Leong Tzi Ming & Dr. Vilma D'Rozario. Singapore, Malaysia. 23 rd October 2012
Scientific Classification
Genus:
Ptychosperma (tee-koh-SPEHR-mah)
Species:
macarthurii (mah-kahr-thur'-ee)
Synonyms
None set.
Native Continent
Oceania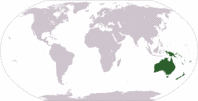 Morphology
Habit:
Clustering
Leaf type:
Pinnate
Culture
Survivability index
Common names
Macarthur Palm, Darwin Palm.
Habitat and Distribution
Fiji, New Guinea, Northern Territory, Panamá, Queensland, Society Is., Windward Is.
Rain Forest Palm. This species occurs in dense rainforests associated with lowland springs near the margins of riverine floodplains. The soils typically comprise deep organic clay loams without humus development. Within the rainforest patches the species will grow in a wide range of light conditions (Duff et al. 1992; Barrow et al. 1993; Liddle et al. 1996).
Description
Stems grow in dense clumps or rarely solitary, up to 7 m tall, only 7 cm in diameter, thus appearing bamboo-like. Leaves are up to 2 m long or more, compound. Leaflets are 23-28 on each side, more or less regularly arranged, with margins nearly parallel or tapered at the tip. Inflorescence are up to 60 cm wide. Male flowers are 6-8 mm long, with 26-40 stamens. Fruit is red, ovoid, 12-16 mm long. Seeds are deeply 3-6-grooved. (Dr.s Kenneth Greby, Yazdy Palia, Satish Pardeshi.) Editing by edric.
Stems: Clustering, each stem with 8-10 leaves, slender, light gray stems to 8 m tall and up to 3-10 cm in diameter, with widely spaced, ridged leaf scar rings. Leaves: Pinnate, reduplicate, 1-2 m long, with a slightly arching rachis holding drooping, regularly arranged leaflets in a single plane. The crown shaft is about 50-60 cm long, somewhat swollen at the base, and light green with a waxy white coating. Leaflets are green above and below, widest toward the middle or wedge-shaped, prominent midribs with brown or tan twisted ramenta on the underside. Leaflet tips are truncated and jagged (praemorse). Flowers and fruits: Inflorescence is pendulous, to 60 cm long and with yellowish branches. White male and female flowers are borne on the same inflorescence. The ovoid, red fruits are 1-1.5 cm long and have remnants of the stigma at the apex. (lucidcentral.org)
Macarthur Palm has stems cespitose (Growing in tufts or clumps) or rarely solitary, to 7 m high, 7 cm in diameter with leaves to 2 m long or more. The pinnae is 23-28 on each side, more or less regularly arranged, obliquely praemorse, with margins nearly parallel or tapered apically. Flowering is seasonal and begins in October or November but can be earlier and later depending on conditions and plant health. Inflorescence is up to 60 cm wide with staminate flowers 6-8 mm long and 26-40 stamens. The brilliant red fruit begin to ripen in January mostly, appearing until April. The fruit is red, ovoid, 12-16 mm long with seeds deeply (3-) 6-grooved with homogeneous endosperm. (Essig, F.B. 1978. A Revision of the Genus Ptychosperma Labill, Arecaceae.
Culture
Light requirement: full sun, partial sun or partial shade, shade tolerant. Soil tolerances: clay; sand; loam; slightly alkaline; acidic; well-drained. Drought tolerance: high. Aerosol salt tolerance: low. Pest resistance: resistant to pests/diseases. (EDIS University of Florida.) Cold Hardiness Zone: 10a+
Comments and Curiosities
Conservation assessment: In the NT, this species is classified as Endangered; Fire and feral animals have been the primary threats impinging on the populations in the 1990s (Liddle et al. 1992ab, 1996, 2001, 2006). There was substantial mortality following wildfires at the Whitewood Road population in 1990 and 1993, and at Black Creek in 1992. In a 1990 survey, Whitewood Road contained 42% of the known adults, however this was reduced to 5% by 2000-2001. Re-survey of Bankers Jungle in 2003 showed significant impacts from grazing with the loss of juvenile and adult plants. Disturbance from feral buffalo, cattle and pigs declined in the 1990s following on from the Brucellosis and Tuberculosis Eradication Campaign, and changes in land use and fencing of four of the eight populations. In the early 1990s, several populations exhibited a polarised size class structure typified by large adult and juvenile plants. In the absence of wildfire and in a period of reduced disturbance by feral animals, sufficient small juvenile plants survived and grew to infill the intermediate classes. In addition to the above, there are increasing threats from: • changed fire regimes due to increased fuel loads from introduced grasses around rainforest margins; • changed land use in the catchment that could lead to a reduction in the water supply to the springs on which the rainforests depend; • changes in surface water quantity and quality; • clearing proposals and any other action that could remove or damage individual rainforest patches that form an interconnected mosaic essential for the flow of genetic material; and • hybridization with introduced Ptychosperma species. (Northern Territory Government)
read more
Ptychosperma macarthurii is known from the NT, Cape York Peninsula and Papua New Guinea. In the NT, this species is known from eight populations with an extent of occurrence of 200 km2 (Duff et al. 1992; Barrow et al. 1993; Liddle et al. 1996). Within this area, it is restricted to wet rainforest patches and has an area of occupancy of less than 1 km2 (Anon 1998; Liddle et al. 2001). Population counts in 2000-01 revealed adult plants at seven locations, four of which had fewer than 20 and the smallest with only one adult plant. Of a total of 1037 adult plants, 70% occurred in one population at Crocodile Creek. These counts overstate the number of mature individuals as plants were classified as adults on the basis of size and thus may include individuals not capable of reproduction. (Northern Territory Government)
P. macarthurii is a small palm of moist rainforests and broad-leaved riverain gallery forests and favours light to moderate shade, a rich, moist loamy or sandy soil and a high humidity. In places where a large tree has fallen, letting in more light than is usual, this plant responds with great vigor. The leaf crowns become larger and the stems attain greater diameters. (Palms & Cycads No. 2, May 1984)
It should be mentioned here that this species is polymorphic; that is there are several forms of it and the Australian ones are considerably different to that cultivated form. The plants encountered in cultivation are all apparently progeny from the collections of Sir William Macarthurs gardener, J. Reedy, who obtained his material from the Katau or Binatauri Rwer in the Gulf of Papua region of New Guinea. Seeds were sent to the then Botanic Garden at Buitenzorg in Java, now Bogor. It is probable that all cultivated material has come from Bogor originally without further collections of wild seed of a different form. The commonly cultivated P. macarthurii is considerably more vigorous than the Australian plants growing in the wild; it has numerous stems which attain greater diameters and broader pinnae. In the Iron Range area for instance, this species is mostly solitary trunked with few to many small basal shoots, which may or may not mature. Forms with very slender stems add pinnae are common and are so delicate and distinct that at first one cannot understand the true nature of them. Environmental factors are naturally very important. In heavy shade the plants can mature (flower) when only 2m tall and with stems only 1-3c.m. in diameter while those experiencing stronger light are larger. Stems can attain heights of up to 15m. but are commonly 5-8m. The adaptability of this species under varying light conditions is such that a specimen can be made to suit any site under cultivation. A plant may form a delicate and tiny specimen, eventually flowering in a 5-8 gallon container under rather dark conditions, while a large and vigorous plant can be grown in the ground in a brightly light site. This species is also tolerant of a wide range of soil conditions. Along the tidal reaches of the lower Claudie River here at Iron Range, it can be seen growing amongst the mangroves and Nypa fruticans vegetation where it receives regular salty or brackish inundations and full sun. Flowering is seasonal and begins in October or November but can be earlier and later depending on conditions and plant health. The brilliant red fruit begin to ripen in January mostly, appearing until at least the present month, April. In the Lockhart River region the Palm is called 'Achar' by the Aboriginal people and was formerly a food, the tender "cabbage" being eaten.(3 ) This species is fairly hardy and should succeed under cultivation in any reasonable cfimate of the sort already proved suitable for the Papuan form of the same. The juveniles grow moderately at first but after forming their 8th - lOth leaf increase in vigor and should attain maturity in 2-3 years. (Palms & Cycads No. 2, May 1984)
"This is one of the two most common Ptychospermas in cultivation, from N Australia and New Guinea. It is a tall, spreading clumping species with premorse leaflets and thin, grey, barely ringed trunks. It is found throughout the tropical world being used in malls, parking lots, indoors and in many gardens. It is fast growing and the fruits are bright red making it useful as an ornamental. Here in southern California it is a marginal palm, but does succeed in zone 10a... just slow as molassas. I have seen clumps that looked great, though, along the coast." (Geoff Stein)
Originally from northeastern Australia and areas of New Guinea, this small, suckering palm has become widely distributed as an ornamental in tropical and warm subtropical areas. The MacArthur Palm produces a dense cluster of slender canes, each topped by a small crown of light green, pinnate leaves. It is ideally suited for the smaller garden, best under a canopy of tall trees, and will also do well as a potted plant indoors if it gets bright light. (RPS.com)
External Links
References
Phonetic spelling of Latin names by edric.
Special thanks to Geoff Stein, (Palmbob) for his hundreds of photos
Special thanks to Palmweb.org, Dr. John Dransfield, Dr. Bill Baker & team, for their volumes of information and photos
Glossary of Palm Terms; Based on the glossary in Dransfield, J., N.W. Uhl, C.B. Asmussen-Lange, W.J. Baker, M.M. Harley & C.E. Lewis. 2008. Genera Palmarum - Evolution and Classification of the Palms. Royal Botanic Gardens, Kew. All images copyright of the artists and photographers (see images for credits).

Many Special Thanks to Ed Vaile for his long hours of tireless editing and numerous contributions.