Pinanga speciosa
From Palmpedia - Palm Grower's Guide
Pinanga (pih-NAHN-gah)
speciosa (speh-see-OH-sah)

Hilo, Hawaii. Photo by Geoff Stein
Scientific Classification
Genus:
Pinanga (pih-NAHN-gah)
Species:

speciosa (speh-see-OH-sah)
Synonyms
None set.
Native Continent
Oceania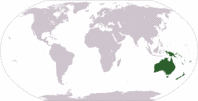 Morphology
Culture
Survivability index
Common names
None.
Habitat and Distribution
Endemic to the Philippines.
Description
Solitary, feather-leafed, crownshaft palm. Trunk to 4 inches thick, crownshaft at times purplish, leaves deep green. Height to 25 feet with a 8 foot spread. Editing by edric.
Culture
Grows best in acidic soils. Growth rate medium. Tolerates short cold snaps to mid 30's. Has no salt tolerance. Cold Hardiness Zone: 10a
Comments and Curiosities
"Attractive solitary pinnate palm from the Philippine island of Mindanao, where it can grow up to 30' tall. Mature palms develop a dark blue-green crownshaft on top of markedly ringed trunk of blue-green. It has wide, drooping leaflets with premorse (jagged) ends. Great specimen palm for tropical garden landscaping." (Geoff Stein)
External Links
References
Phonetic spelling of Latin names by edric.
Special thanks to Geoff Stein, (Palmbob) for his hundreds of photos.
Special thanks to Palmweb.org, Dr. John Dransfield, Dr. Bill Baker & team, for their volumes of information and photos.
Glossary of Palm Terms; Based on the glossary in Dransfield, J., N.W. Uhl, C.B. Asmussen-Lange, W.J. Baker, M.M. Harley & C.E. Lewis. 2008. Genera Palmarum - Evolution and Classification of the Palms. Royal Botanic Gardens, Kew. All images copyright of the artists and photographers (see images for credits).

Many Special Thanks to Ed Vaile for his long hours of tireless editing and numerous contributions.