Livistona benthamii
From Palmpedia - Palm Grower's Guide
Livistona (liv-iss-TOH-nah)
benthamii (Ben-tahm'-ee)

In seasonally inundated habitat, Fogg Dam Reserve, Northern Territory of Australia. Photo by tropicbreeze
Scientific Classification
Genus:
Livistona (liv-iss-TOH-nah)
Species:

benthamii (Ben-tahm'-ee)
Synonyms
None set.
Native Continent
Oceania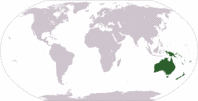 Morphology
Habit:
Solitary
Leaf type:
Costapalmate
Height:
25' to 50' / 7.60 m to 15.20 m
Culture
Survivability index
Common names
None.
Habitat and Distribution
New Guinea, Northern Territory, Queensland Australia. Indonesia and Papua New Guinea.
In Australia in the Northern Territory from Daly R. across the Top End to east Arnhem Land, and in Queensland from Moa Is. in Torres Strait through Cape York to McIlwraith Ra. In Papua New Guinea in the Western and Central Provinces, and in Indonesia in Papua, Merauke Division. Grows in swamp forests, on alluvial flats, on the leeward side of mangroves and in moist to wet areas in monsoonal thickets and gallery forests at low elevations, 0-100 m alt.
Description
Functionally dioecious palm. Trunk to 18 m tall, 13-20 cm in diam. breast high, leaf scars raised, internodes narrow, grey, petiole stubs long because of the abscission of leaves occurring in about the middle of the petiole; stubs persistent on the trunk for most of its length, unless decayed by age or fire. Leaves 30-50 in a globose crown; petiole 120-200 cm long, 10-18 mm wide, adaxially moderately ridged, margins with single curved black spines congested in the proximal portion; leaf-base fibres prominent, coarse, persistent; lamina costapalmate, regularly segmented, circular, 90-160 cm long, chartaceous, adaxially dark green, abaxially lighter green, glossy, nonwaxy; lamina divided for 60-75% of its length, with 50-80 segments, depth of apical cleft 60-75% of the segment length, apical lobes acute, pendulous; parallel Inflorescences unbranched at the base, not sexually dimorphic, 120-210 cm long, not extending beyond the limit of the crown, branched to 2 orders; 7-9 partial inflorescences; prophyll not seen; peduncular bract(s) lacking; rachis bracts tightly sheathing, light brown, with sparse scurfy silver scales; rachillae 5-12 mm long, patchily pubescent. Flowers solitary or in clusters of 2-3, tubular, whitish/cream to pale yellow; sepals triangular, 0.8-2 mm long, membranous, acute; petals broadly triangular, 1.0-1.3 mm long, fleshy, acute; stamens ca 1 mm long. Fruit globose to obovoid or pyriform, 9-13 mm long, 9-11 mm diam., pruinose purple-black; epicarp smooth, suture line extends for the length of the fruit; pedicel 2-3 mm long. Seed ovoid, 8-9 mm long. Eophyll not seen. (Dowe, J.L.)/Palmweb. Editing by edric.
As with L. muelleri, Bailey (1898) first described L. benthamii as a possible new variety of L. humilis, but subsequently described it based on the specimen Jardine s.n. (Bailey, 1902). Bailey noted "... I place this and a palmate-leaved palm from Cairns as varieties of Dr. Robt. Brown's Livistona humilis for the present: but hope to have full and complete material for a more satisfactory arrangement when working up the order for my work now in hand on the Queensland Flora...". In naming both L. benthamii and L. muelleri, Bailey (1902) wrote:"... give them specific rank bearing the names of the authors of the Flora Australiensis...". For the population occurring in the Northern Territory, Australia, Beccari (1921) provided the name L. holtzei based on Holtze s.n. and for New Guinea, Burret (1939) provided the name L. melanocarpa based on Brass 6310 collected from Western Prov., Papua New Guinea. Both of these taxa are attributable to L. benthamii. Livistona benthamii is a large canopy palm to 18 m tall, with long retained petiole stubs; leaves are moderate to large and regularly segmented; segment apices are pendulous, and with a bifurcate cleft to 75% of the segment length; the inflorescence is unbranched, not extending beyond the limit of the crown, and with up to 9 partial inflorescences; bracts are tightly sheathing; flowers are whitish cream to pale yellow; fruit are globose to obovoid o pyriform, to 13 mm long to 11 mm wide, and pruinose purple black at maturity. (Dowe, J.L.)/Palmweb.
Culture
Very small round black seed are rubbed clean and put into shallow trays. Germination is good, and two or three months later little strap leaves appear. Standard horticultural practice will give a 200mm pot plant with many deeply cut leaves, ready for a shady spot in the garden. Good air circulation in the growing area is necessary to prevent fungus attack. Benthams grow fairly quickly given plenty of-water and fertilizer.
Comments and Curiosities
Phenology: Flowers Sep-Jan; fruits Nov-Apr.
"This palm has a somewhat similar appearance, to the much more common Livistona decipiens (now decorum), and Livistona australis wtih the typical drooping leaflets, though it tends to hold more leaf bases near the base of the palm. It is a smaller and less statuesque palm. The teeth on the petioles are huge and curved and very sharp. Cultivationally, at least here in California, this one is a much harder plant to grow, seeming to dampen off or rot very easily when young. It is very slow and finicky as a seedling. Mature plants are very rare in southern California." (Geoff Stein)
A moderately tall, fast growing fan palm from northern Australia and New Guinea, that is well suited to cultivation in tropical or warm subtropical areas. It likes abundant water and will grow well in waterlogged soils, and areas with brackish water and coastal exposure. While young, it makes a very pretty house plant. (RPS.com)
External Links
References
Phonetic spelling of Latin names by edric.
Special thanks to Geoff Stein, (Palmbob) for his hundreds of photos.
Special thanks to Palmweb.org, Dr. John Dransfield, Dr. Bill Baker & team, for their volumes of information and photos.
Glossary of Palm Terms; Based on the glossary in Dransfield, J., N.W. Uhl, C.B. Asmussen-Lange, W.J. Baker, M.M. Harley & C.E. Lewis. 2008. Genera Palmarum - Evolution and Classification of the Palms. Royal Botanic Gardens, Kew. All images copyright of the artists and photographers (see images for credits).
Dowe, J.L., A taxonomic account of Livistona R.Br. (Arecaceae). A taxonomic account of Livistona R.Br. (Arecaceae).

Many Special Thanks to Ed Vaile for his long hours of tireless editing and numerous contributions.