Licuala lauterbachii
From Palmpedia - Palm Grower's Guide
Licuala (lik-oo-AH-lah)
lauterbachii (law-tehr-bahk'-ee)

Papua New Guinea. Photo by Dr. William J. Baker, Royal Botanic Gardens, Kew/Palmweb.
Scientific Classification
Genus:
Licuala (lik-oo-AH-lah)
Species:

lauterbachii (law-tehr-bahk'-ee)
Synonyms
None set.
Native Continent
Oceania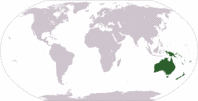 Morphology
Culture
Survivability index
Common names
None.
Habitat and Distribution
Papua New Guinea.
Description
Solitary palm with flat, circular, multi-segmented leaves, very slender petioles, to about 1.5 m long.
"Relatively large species from New Guinea with a hint of cold hardiness. Grows up to 20 of stem (narrow) and long, arching, pinwheel-like divided fan leaves with irregular leaflet widths. Excellent as a large potted palm." (Geoff Stein) Editing by edric.
Culture
Tropical Moist Forest, Cold Hardiness Zone: 10a
Comments and Curiosities
There are two subspecies, Licuala lauterbachii var. bougainvillensis (Solomon Is.), and Licuala lauterbachii var. lauterbachii (New Guinea).
Licuala ramsayi and Licuala lauterbachii have lots of similarity, and look identical to an imature gardener. It needs to be examined properly to identify morphologically. For us, both the palms till many years look identical, and it was difficult to give individual identity to mixed seedlings. I asked one of the palm experts about the difference between both plants, he answered that both the plants are from different countries and habitats. Is that answer is enough? No certainly not. Both are solitary, slow growing and have circular multi segmented leaves and similar growth rates, and their identities are quiet confusing, if kept at different locations, but some major morphological difference are there in both the species. The leaf of licuala lauterbachii is much dark green than L. ramsayi, L. lauterbachii has a narrower and flatter leaf segment than licuala ramsayi. The leaf petioles of L. lauterbachii are covered with brown to dark brown hairy pigments, where as the leaf petioles of L. ramsayi is green. Flowering of L. lauterbachii starts at the early stage in potted plants but the same aged L ramsayi has no indication of inflorescence yet, so the growth rate of L. lauterbachii remains stunted in long terms if flower spikes are not detached from the plants. The spines in L. lauterbachii are like scorpion stingers where as in L. ramsayi are simple and straight. We have been providing similar treatment to both the plants, and both are doing well. (Mayflower's Nursery)
A fairly large, solitary Licuala from Papua New Guinea, where it is quite a common sight in lowland rainforest. Its crown holds many flat, circular fan leaves, about 1 m (3 ft.) across, with numerous narrow segments. The small but showy bright red fruits are produced in large clusters. A stunning palm that will do best in a protected spot in a tropical climate but is rarely seen in cultivation. Licuala lauterbachii var. bougainvillensis; A stunning, midsized palm with beautiful, flat, circular fan leaves, about 1 m (3 ft.) across. Native to rainforests on the Solomon Islands and Bougainville Island, the rare and distinctive variety discussed here has a very large central segment and only six to eight smaller divisions. A highly ornamental but rarely offered palm that grows best in a protected spot in a tropical climate. (RPS.com)
External Links
References
Phonetic spelling of Latin names by edric.
Special thanks to Geoff Stein, (Palmbob) for his hundreds of photos.
Special thanks to Palmweb.org, Dr. John Dransfield, Dr. Bill Baker & team, for their volumes of information and photos.
Glossary of Palm Terms; Based on the glossary in Dransfield, J., N.W. Uhl, C.B. Asmussen-Lange, W.J. Baker, M.M. Harley & C.E. Lewis. 2008. Genera Palmarum - Evolution and Classification of the Palms. Royal Botanic Gardens, Kew. All images copyright of the artists and photographers (see images for credits).

Many Special Thanks to Ed Vaile for his long hours of tireless editing and numerous contributions.