Hedyscepe canterburyana
From Palmpedia - Palm Grower's Guide
Hedyscepe (hed-ih-SEH-peh)
canterburyana
(kahn-teh'-buhr-ee-AHN-ah)

Mt. Gower Climb (Lord Howe Island) - Troy & Darold Petty's excellent adventure. Photo by Troy Donovan.
Scientific Classification
Genus:
Hedyscepe (hed-ih-SEH-peh)
Species:

canterburyana
(kahn-teh'-buhr-ee-AHN-ah)
Synonyms
None set.
Native Continent
Oceania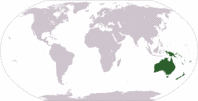 Morphology
Culture
Survivability index
Common names
Big Mountain Palm, Umbrella Palm,
Habitat and Distribution
Endemic to the Norfolk Is.
Description
H. canterburyana is a slow-growing palm up to 10 metres tall which grows on mountain forests, cliffs, and exposed ridges overlooking the sea, at about 400 to 750 metres of altitude. It has a slender, close-ringed trunk, a prominent silvery crownshaft and a compact crown of dense, dark green, stiffly arching recurved fronds somewhat reminiscent of those of Howea belmoreana. The egg-shaped fruit are deep red when ripe, and about 4 cm long. They appear in densely bunched fruiting spikes from below the crownshaft. Each fruit contains a single seed.
Culture
Lord Howe Island has a subtropical climate. Summers are mild to warm with regular rain, and winters are wetter and somewhat cooler. Average maximum temperatures range between 17C and 20C in winter and from 24C to 27C in the summer. In winter, Average minimum temperatures range between 12C and 15C, and 18C to 22C in summer. Humidity averages in the 60 to 70 per cent range all year round. With its arching fronds, H. canterburyana is a very attractive palm which is becoming increasingly popular among garden enthusiasts in cool subtropical and warm temperate climates. It is difficult to grow in the tropics or where nights are never cool, but does well in climates like Sydney and Auckland, and can tolerate the occasional light frost once established. It needs a rich organic soil, and shelter from sun for at least the first five years. It also does well in containers or as indoor plants where light is good. Single plants are capable of producing fertile seed. Fresh seed is slow and erratic in germination, with seedlings appearing from five to 18 months after they are sown. Fruit take up to four years to ripen and it is not easy to tell when the seeds are ripe. (Dransfield, John, Natalie W Uhl, Conny B Asmussen, William J Baker, Madeline M Harley, and Carl E Lewis 2005)
Comments and Curiosities
This is a monotypic genus.
Hedyscepe canterburyana, the Big Mountain Palm or Umbrella Palm, is the sole species in the genus Hedescepe of the Arecaceae family. It is endemic to Lord Howe Island, Australia and is threatened by habitat loss. It is a solitary palm with a distinct crownshaft, and bears unisexual flowers of both sexes. With the Rhopalostylis palms of Norfolk Island and New Zealand it forms the botanic subtribe Rhopalostylidinae. If differs from Rhopalostylis in minor floral details including having more than six stamens, and in being protandrous rather than protogynous. The two genera were formerly included in Archontophoenicinae until a revision in 2005. (Dransfield, Uhl et al., 2005)
read more
Sometimes sold in nurseries as the "Umbrella Palm," Hedyscepe canterburyana has become a proven candidate for Californian gardens. Adults show off a bulbous powdery-white crownshaft, slender green stem, stiff recurving leaves, and a romantic high-elevation cloud-forest style, like sensitive Basselinia or Cyphokentia without all the fuss. Truly an impressive palm at maturity. Likes it cool and thrives in coastal regions; can use canopy in hot inland areas. Hedyscepe is native only to Lord Howe Island in the South Pacific where it grows on the small island's two mountains at around 1500 feet. Large, seed-producing trees are already established in private gardens in California; a towering tree can be seen in Quail Botanical Gardens in San Diego County. The seeds are large (4 cm) and slowly turn deep red when ripe. On one infructescence the seeds ripen at varying rates and can take several years to complete the process from flowering to ripe seed. (willowbrooknursery.com)
Hedyscepe canterburyana (Umbrella Palm) - A graceful and beautiful single trunked, feathery, medium sized palm that grows slowly to about 10 m, or 30 feet tall, with a full head of elegant recurved pinnate silvery leaves, that come from a blue-green slightly bulbous crown shaft. The trunk is blue green when young and then matures to green, with regularly and closely spaced ring-like leaf scars. Flowers, which emerge below the crownshaft are not overly showy with ivory-colored male flowers and purple female flowers, but are followed by large showy dull red fruit. This palm prefers shade or morning sun when young but can grow up into the sun with age. Give average garden irrigation in a rich well drained soil. Hardy to 27-28º F. This palm grows best along the Southern California coast where winters are mild and the hot dry Santa Ana winds, which can cause leaf burn, are less severe. We have several fine examples in Santa Barbara including at Ganna Walska Lotusland Botanic Garden and the County Courthouse. It comes from the higher elevations up to 2,250 feet on Lord Howe Island, an island far off the east coast of Australia, that is primarily known as being the home of the 'Kentia Palm', Howea forsteriana and the related 'Sentry Palm', Howea belmoreana. It is also commonly called the Big Mountain Palm. This plant is listed with the International Union for Conservation of Nature (IUCN) Redlist as VULNERABLE (VU D2) - meaning it is not Critically Endangered or Endangered but is facing a high risk of extinction in the wild in the medium-term future but that the population is characterized by an acute restriction in its area of occupancy and thus capable of becoming Critically Endangered or even Extinct in a very short period. (sungrowers.com)
IMAGE GALLERY

Mt. Gower Climb (Lord Howe Island) - Troy & Darold Petty's excellent adventure. "Up here it was 16 c (60 f) and very cool for late Summer." "It was 26 c (79 f) down below in kentia country." "Jack said it can be around 13 C (55 F) in Winter on top of Mt Gower, just like Hobart and SFO winters, and never more than 22 C in Summer." Photo by Troy Donovan.

In cultivation at South Pacific Palms, Kerikeri, New Zealand. The fruits take four years to ripen, and it is difficult to tell when they are ripe. The egg-shaped fruit are deep red when ripe, and about 4 cm long. They appear in densely bunched fruiting spikes from below the crownshaft. Each fruit contains a single seed. Photo by Kahuroa
External Links
References
Phonetic spelling of Latin names by edric.
Special thanks to Geoff Stein, (Palmbob) for his hundreds of photos.
Special thanks to Palmweb.org, Dr. John Dransfield, Dr. Bill Baker & team, for their volumes of information and photos.
Glossary of Palm Terms; Based on the glossary in Dransfield, J., N.W. Uhl, C.B. Asmussen-Lange, W.J. Baker, M.M. Harley & C.E. Lewis. 2008. Genera Palmarum - Evolution and Classification of the Palms. Royal Botanic Gardens, Kew. All images copyright of the artists and photographers (see images for credits).

Many Special Thanks to Ed Vaile for his long hours of tireless editing and numerous contributions.