Drymophloeus litigiosus
From Palmpedia - Palm Grower's Guide
Drymophloeus (dry-moh-FLEH-uhs) litigiosus (lih-tee-jee-OH-suhs)

Arfak Plains, West Papua, Indonesia. Photo by Dr. John Dransfield, Royal Botanic Gardens, Kew/Palmweb.
Scientific Classification
Genus:
Drymophloeus (dry-moh-FLEH-uhs)
Species:
litigiosus (lih-tee-jee-OH-suhs)
Synonyms
Drymophloeus porrectus, Drymophloeus beguinii
Native Continent
Oceania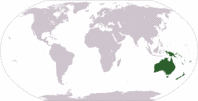 Morphology
Habit:
Clustering
Leaf type:
Pinnate
Culture
Survivability index
Common names
None.
Habitat and Distribution
Drymophloeus litigiosus is endemic to Maluku, New Guinea. Rain forest.
Description
A medium-sized palm clustering, reaching up to 5 m. tall, with broad, dark green, leaflets, with premorse leaf tips, and white flowers. Editing by edric.
Culture
This palm may have a good future in protected spots in central Florida. The results of the January freezes of 2010 will perhaps, help to insure it's cold tolerance. Noblick's freeze data also supports this thought. Hardiness: USDA zones, 10A-11. http://www.plantapalm.com/vpe/horticulture/vpe_horticulture4.htm
Comments and Curiosities
beguinii is a synonym. The accepted name is litigiosus. -Palmnerd 01/10.
Uses: black wood used for making spears.
A slender, mid-sized palm from Indonesia that has pinnate leaves with broad, jaggedly-toothed leaflets. It is quite rare in cultivation and will do best in a humid, warm subtropical or tropical climate. (RPS.com)
External Links
References
Phonetic spelling of Latin names by edric.
Special thanks to Geoff Stein, (Palmbob) for his hundreds of photos.
Special thanks to Palmweb.org, Dr. John Dransfield, Dr. Bill Baker & team, for their volumes of information and photos.
Glossary of Palm Terms; Based on the glossary in Dransfield, J., N.W. Uhl, C.B. Asmussen-Lange, W.J. Baker, M.M. Harley & C.E. Lewis. 2008. Genera Palmarum - Evolution and Classification of the Palms. Royal Botanic Gardens, Kew. All images copyright of the artists and photographers (see images for credits).

Many Special Thanks to Ed Vaile for his long hours of tireless editing and numerous contributions.