Cyphophoenix elegans
From Palmpedia - Palm Grower's Guide
Cyphophoenix (sigh-foh-FEH-niks)
elegans (EHL-eh-ganz)
Scientific Classification
Genus:
Cyphophoenix (sigh-foh-FEH-niks)
Species:

elegans (EHL-eh-ganz)
Synonyms
Kentia elegans
Native Continent
Oceania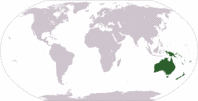 Morphology
Habit:
Solitary
Leaf type:
Pinnate
Height:
15 m
Culture
| | |
| --- | --- |
| Sun exposure: | Shade |
| Watering: | Moist |
| Soil type: | Rich Soil, Well drained. |
Survivability index
Common names
None.
Habitat and Distribution
Cyphophoenix elegans
is endemic to New Caledonia. Approximate altitude: 1200 m.
Cyphophoenix elegans is present only in the North East of the Grande Terre, (main island), in rain forest, on slopes, and in gallery forest. Substratum: On ground consisting primarily of deep shale.
Description
Hight up to 10 m., trunk is ringed by leaf scars, up to 10 cm. in diam. Crown holds 7 to 10 leaves, about 2 m. long, significantly upright, and arched towards the tip, crownshaft 50 to 90 cm. long, olive green, covered with a greyish tomentum, petiole 30 to 50 cm., dark brown rachis, petiole and rachis scaly to tomentose. Inflorescence glabrous, slightly reddish when young, green when mature, 60-70 cm. long, more than 1 m. wide at the base, peduncle, 3-6 cm; Fresh fruit ovoid, 19-20 x 13-14 mm., red when ripe, seeds ellipsoid, 1.7 x 7 mm. apical stigmatic remains.
Culture
This is a surprisingly hardy palm in southern California; way too slow to be of any commercial landscaping value, but a great collector's palm, as long as you plan on living for several decades at least. It is hard to find palms larger than one gallon, but even a gallon size is pretty hardy, not only to most southern California cold, but also sun. Full, hot, blazing, summer, inland sun is pretty easy on one of these seedlings. But still, they seem to prefer some shade inland. This is one of the few 'tropical' palms that doesn't even brown tip, as long as given plenty of water. It appears to be wind resistant, as well. There are only 3-4 trunking palms in southern California, that I know of in 2007, but someday there will be a lot more. This palm looks just about as good here as in the tropics, which is saying a lot! Hardiness USDA zone: 9b
Comments and Curiosities
An interesting but as yet little known palm from New Caledonia with a slim ringed trunk, a prominent crownshaft and stiff, erect leaves, requiring moist rich soil and an abundance of water in dry weather. A unique opportunity to purchase these rarely offered seeds. Germination is fairly easy, subsequent seedling growth is fast. (RPS.com)
External Links
References
All information translated from the French.
Phonetic spelling of Latin names by edric.
Special thanks to Geoff Stein, (Palmbob) for his hundreds of photos.
Special thanks to Palmweb.org, Dr. John Dransfield, Dr. Bill Baker & team, for their volumes of information and photos.
Glossary of Palm Terms; Based on the glossary in Dransfield, J., N.W. Uhl, C.B. Asmussen-Lange, W.J. Baker, M.M. Harley & C.E. Lewis. 2008. Genera Palmarum - Evolution and Classification of the Palms. Royal Botanic Gardens, Kew. All images copyright of the artists and photographers (see images for credits).

Many Special Thanks to Ed Vaile for his long hours of tireless editing and numerous contributions.