Clinostigma harlandii
From Palmpedia - Palm Grower's Guide
Clinostigma (klin-oh-STIG-mah)
harlandii (hahr-LAHN-dee)

Hawaii.
Scientific Classification
Genus:
Clinostigma (klin-oh-STIG-mah)
Species:

harlandii (hahr-LAHN-dee)
Synonyms
None set.
Native Continent
Oceania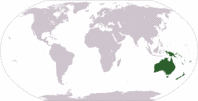 Morphology
Culture
Survivability index
Common names
Maman (Local name from Endu, Ambrym Island)
Habitat and Distribution
Clinostigma harlandii
is endemic to the ridge crests, and slopes of Vanuatu,
from the islands of Vanua Lava, Espiritu Santo,
Ambae, Ambrym, Pentecost, Efate, Erromango, and Aneityum, from sea level to over 1,500 m. Becoming more common in the upper altitude of its range.
Description
Trunk type: Solitary. Hight: To about 15 meters, (50'). Leaf detail: Pinnately compound, with fine leaflets, and drooping leaflets. Crownshaft to 1.4 meters tall, (4.60') covered with a whitish wax. Editing by edric.
Culture
Requirements: Filtered light when young, full sun when mature, consistently moist soil, lots of water. This is a very fast growing palm, and a highly desirable plant for tropical/ warm sub-tropical gardens. well drained position.
Comments and Curiosities
Clinostigma are doubtlessly some of the world's most graceful palms, and C. harlandii from cloud forests at 1000 m (3300 ft) on Vanuatu in the Southwest Pacific is no exception. It grows a tall, slender, smooth, waxy trunk, supported by a cone of stilt roots, and topped by a long, dark green, waxy crownshaft and an elegant crown of feathery, arching leaves. It is an aggressively fast grower, does well in the humid tropical or subtropical garden, and is one of the few in the genus that will tolerate cooler temperatures (but no frost). (RPS.com). On Ambrym Island the local people eat this species. The 'heart' (immature leaves within the bulbous area at top of trunk) is eaten. It is quite sweet and tastes a bit like a cross between French beans and asparagus. Unfortunately the extraction of the 'heart' kills the tree.
External Links
References
Phonetic spelling of Latin names by edric.
Special thanks to Geoff Stein, (Palmbob) for his hundreds of photos.
Special thanks to Palmweb.org, Dr. John Dransfield, Dr. Bill Baker & team, for their volumes of information and photos.
Glossary of Palm Terms; Based on the glossary in Dransfield, J., N.W. Uhl, C.B. Asmussen-Lange, W.J. Baker, M.M. Harley & C.E. Lewis. 2008. Genera Palmarum - Evolution and Classification of the Palms. Royal Botanic Gardens, Kew. All images copyright of the artists and photographers (see images for credits).

Many Special Thanks to Ed Vaile for his long hours of tireless editing and numerous contributions.