Clinostigma exorrhizum
From Palmpedia - Palm Grower's Guide
Clinostigma (klin-oh-STIG-mah)
exorrhizum (eks-or-RIHZ-uhm)

Growing at 680 meters elevation. on Taveuni Island, Fiji. Photo by Jim Valentine.
Scientific Classification
Genus:
Clinostigma (klin-oh-STIG-mah)
Species:

exorrhizum (eks-or-RIHZ-uhm)
Synonyms
Clinostigma thurstonii, Clinostigma seemannii, Clinostigma smithii.
Native Continent
Oceania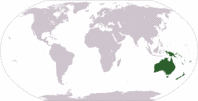 Morphology
Culture
Survivability index
Common names
None.
Habitat and Distribution
Clinostigma exorrhizum
is endemic to the Fiji islands, found from 400 to 1100 meters on
Taveuni, Viti Levu and Vanua Levu in many locations, as well at a lower elevation in small numbers, at one location, 50 meters elevation on Vanua Levu.
Description
Trunk type: Solitary. Hight: Up to 20 meters, (66 feet). Base of trunk has stilt-roots, that are spiny. Crown can hold up to 12 fronds at a time. Leaf detail: Pinnately compound, fine leaflets, drooping. Fronds can reach a length of 5 meters, (17 feet). Fruit detail: Ripe fruits are red and only 3-5 mm, with a single inflorescence producing many hundreds of seeds. Editing by edric.
Culture
Requirements: Filtered light when young, full sun when mature, consistently moist soil, well drained position. Hardiness zones, USDA 10a-up.
Comments and Curiosities
"Clinostigma exorrhizum can be sen on four different islands in Fiji, in many locations from 50 meters to 1100 meters altitude. So it should have great landscaping potential in a variety of climates." (Jim Valentine)
Clinostigma are among the most beautiful feather-leaved palms. This species from cloud forests in Fiji in the southern Pacific has a tall, solitary, ringed trunk, topped by a long, waxy crownshaft. The leaves are elegantly spreading and very finely divided in adult specimens. C. exorrhizum is fast growing and best suited to humid, tropical or warm subtropical climates. (RPS.com)
External Links
References
Phonetic spelling of Latin names by edric.
Special thanks to Geoff Stein, (Palmbob) for his hundreds of photos.
Special thanks to Palmweb.org, Dr. John Dransfield, Dr. Bill Baker & team, for their volumes of information and photos.

Glossary of Palm Terms; Based on the glossary in Dransfield, J., N.W. Uhl, C.B. Asmussen-Lange, W.J. Baker, M.M. Harley & C.E. Lewis. 2008. Genera Palmarum - Evolution and Classification of the Palms. Royal Botanic Gardens, Kew. All images copyright of the artists and photographers (see images for credits).

Many Special Thanks to Ed Vaile for his long hours of tireless editing and numerous contributions.