Carpoxylon macrospermum
From Palmpedia - Palm Grower's Guide
Carpoxylon (kahr-PAHX-ih-lahn)
macrospermum
(mak-roh-SPEHR-muhm)

Former Sullivan Garden, Hawaii, photo by Paul Craft.
Scientific Classification
Genus:
Carpoxylon (kahr-PAHX-ih-lahn)
Species:

macrospermum
(mak-roh-SPEHR-muhm)
Synonyms
None set.
Native Continent
Oceania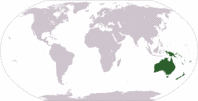 Morphology
Culture
Survivability index
Common names
Aneityum Palm, Carpoxylon palm.
Habitat and Distribution
Carpoxylon macrospermum is found in Lowland rainforests of "New Hebrides" (the former name of Vanuatu).
Description
Trunk type: Solitary, Height: To 25 meters, (80'), it has an expanded base, but tapers to approximately 30 centimeters, about (12"), when mature, leaf scar rings are prominent, with a slender light green crownshaft, approximately 1.5 meters, (5') long. Leaf detail: Pinnately compound, diametrically opposed, closely knit dark green pinnae. Flower detail: The flowers are borne on branched inflorescences, which emerge below the crownshaft. Fruit detail: Fruits are obovate, approximately 7 centimeters long, by 4 centimeters in diameter, red at maturity. Special note: The eccentric, subapical stigmatic scar of Carpoxylon macrospermum, immediately distinguishes it from Veitchia species, which all have apical stigmatic scars. The generic name (carpo-, fruit; xylon, woody) refers to the thick, woody endocarp that encloses a single seed, which is notable for the pale streaks on the seed coat. A graceful, tall, emergent, pinnately leaved palm with a well developed shiny, green crownshaft. Leaves strongly arcuate toward the apex, distinctive stiffly erect pinnae. Fruiting parts held below the crownshaft, staged, twice branched, with large fruits becoming bright orange on maturity. Four specimens were sighted in a close group; three having reached reproductive age, one large adolescent; a number of scattered seedlings were emerging from the holes of coconut crabs in the vicinity beneath the palms; Local villagers reported that scattered individuals occured further up-stream. Editing by edric.
Detailed Scientific Description
Trunk: erect to about 18 m; base expanded to 50 cm in diameter, breast high, upward of 1 m above ground-level a uniform 35 cm in diameter attained for much of the height; internodes either closely spaced to 2 cm on higher parts of trunk or distant to 7 cm apart on adolescent and the lower parts of the mature trunks; anular rings slightly raised, white; intersurface smooth, dull green, turning grey with age. Crownshaft: large, columnar, 1.5 - 2.O m, shining uniform green, smooth; splitting opposite the petiole prior to leaf fall. Leaf: large 3.5 - 4.0 m, becoming strongly arcuate toward the apex; petiole short to 25cm, width at attachment to crownshaft 15 cm; rachis flexible, broadly ridged on the upper surface, this ridge constricting to a sharp edge at mid leaf and extending into the apex and beyond the apical pair of pinnae for 12 cm, forming a strong flexible extension; undersurface smooth, rounded, dull green. Pinnae: linear, 3.5 - 4.0 cm wide, acuminate; basal pinnae to 30cm, mid-leaf pinnae to 1.5 m, apical pinnae to 20 cm, stiffly coriacous, dull-green above, grey-green beneath; light yellowish green in the 2 cm at base; 69 per side, progressively wider spaced form apex, 3.5 cm apart to 8 cm apart at the base; apical pinnae attached to rachis at 180° to each other, mid-leaf pinnae steeply ascending with a divergent angle of 40°, basal pinnae set at an angle of 150° prominently, flexibly veined; mid-vein most prominent of seven evenly spaced veins, marginal vein more prominent than the 2 intermediate veins. Inflorescence: unknown, collection presently being arranged. Infructesence: large and spreading, attached directly below the crownshaft; 4-6 in progressive stages of development; peduncle stout, to 14 cm, elipsoidal in crosssection; 7cm broad at basal bract scar, 5.5 cm at second bract scar, 4.5 cm at third bract scar, bract scars 5 cm apart; twice branched, primary branch 38cm in length, flat sided in four planes, axis 20 cm from the base of peduncle; subsequent branches loosely arranged and inserted at 4cm intervals; progressively smaller toward the apex; primary rachillae attached 5 cm from the axis; subsequent rachillae loosely arranged, evenly spaced; basal rachillae to 40 cm in length, apical 2/3 thin and shrivelled; 2-6 fruits attached to base ; apical rachillae to 20cm in length, only 1 fruit attached to base; all infructescence surfaces smooth and uniform mid-green. Fruits: large ovoid-elipsoidal, with eccentric apical stigmatic remains; epicarp smooth, lightly pleated in the basal 1 cm; mesocarp, thin, dry, fibrous, yellowish; seed large, oblong-ovoid flattened at the base; raphe fibres attached longitudinally;, endocarp papery; endosperm jellyish, white, central cavitywith clear liquid; mature fruits bright orange; germination adjacent; eophyll bifid. (Dr. J.L. Dowe)/Palmweb.
Culture
Requirements: Filtered light when young, full sun when very mature, consistently moist soil, well drained position. This species may hold promise in some warm temperate areas. It has been exposed to temperatures at or just below freezing for a couple of seasons and shown thus far to resist cold damage.
Comments and Curiosities
read more
This is a monotypic genus.
Etymology: The generic name (carpo-, fruit; xylon, woody) refers to the thick, woody endocarp that encloses a single seed.
Uses: The fruits are edible, resembling green coconut in texture and flavour and considered somewhat of a delicacy by the local villagers. The fruits are split between the teeth, prised apart with the thumbs and slurped. The flavour is much fuller than green coconut, as I can attest to. The palm hearts are occasionally used to make salads, being mixed with coconut juice. The local name is 'ninuvusa'. (Dr. J.L. Dowe)/Palmweb.
Capoxylon macrospermum has long been an enigma for palm botanists. It was known from the original publication made in 1875, which included illustrations of the fruit and seed. The locality was simply "New Hebrides" (the former name of Vanuatu), and even the original specimens were lost. Its evolutionary affinities and its place in the palm family were unknown until John Dowe serendipitously rediscovered the species in 1987 on the island of Espirtu Santo, Vanuatu. Only then were sufficient materials available for scientists to determine this species' place in the palm family. The original specimen was subsequently found misfiled in the Natural History Museum (London) as a Veitchia species.Information on the ecology of this species is limited to observations by Dowe of dubiously native palms growing in semi-natural situations in Vanuatu. No information is recorded regarding the pollination or fruit dispersal of this species.Carpoxylon macrospermum is primarily used as ornamental palms in parks and gardens; however, there are several uses recorded from Vanuatu. The stem can be used as a building material and the enlarged base can be prepared as feed for domestic pigs. The leaflets can be used as a traditional roofing material in the same way as the coconut palm (Cocos nucifera). The roots are used in the preparation of numerous remedies. The immature (green) fruit are edible and are often eaten by local inhabitants.
"According to the palm bible, the genus name is derived from two Greek words meaning "fruit" and "wood" and the epithet from two Greek words meaning "large" and "seed". This palm, endemic to the Vanuatu islands (setting of the TV show Survivor a few years ago), was thought to be extinct, know only from descriptions of its fruits and seeds until discovered in cultivation on the island of Espiritu Santo by Australian botanist John L. Dowe in 1987. According to Wikipedia, Espiritu Santo (from the Spanish espíritu santo, "Holy Ghost", sometimes called just Santo) is the largest island in the nation of Vanuatu, with a surface area of 3955.5 km²." (Kathryn Morgan)
External Links
References
Phonetic spelling of Latin names by edric.
Special thanks to Geoff Stein, (Palmbob) for his hundreds of photos.
Special thanks to Palmweb.org, Dr. John Dransfield, Dr. Bill Baker & team, for their volumes of information and photos.
Glossary of Palm Terms; Based on the glossary in Dransfield, J., N.W. Uhl, C.B. Asmussen-Lange, W.J. Baker, M.M. Harley & C.E. Lewis. 2008. Genera Palmarum - Evolution and Classification of the Palms. Royal Botanic Gardens, Kew. All images copyright of the artists and photographers (see images for credits).
Dowe, J.L.1989. Carpoxylon macrospermum. Principes 33: 68-73.

Many Special Thanks to Ed Vaile for his long hours of tireless editing and numerous contributions.