Calyptrocalyx pachystachys
From Palmpedia - Palm Grower's Guide
Calyptrocalyx
(kah-lip-troh-KAH-liks)
pachystachys (pahk-ih-STAHK-iss)
Scientific Classification
Genus:
Calyptrocalyx
(kah-lip-troh-KAH-liks)
Species:

pachystachys (pahk-ih-STAHK-iss)
Synonyms
None set.
Native Continent
Oceania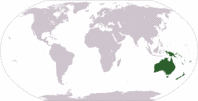 Morphology
Culture
Survivability index
Common names
Bedang Dawn Noda Noda.
Habitat and Distribution
Calyptrocalyx pachystachys
is found in the rainforests, of
Papua New Guinea.
Description
Narrow ringed trunk, with slender crownshaft. Hight: To nearly 2 meters. Leaf detail: Pinnately compound, alternately opposed, widely spaced, elliptical leaflets, with finely drawn out tips, and a midrib, which tends to hold the pinnae perpendicular to the rachis, reddish maroon, new emergent leaf. Editing by edric.
Culture
Requirements: Full to partial shade when young, then filtered light when mature, consistently moist soil, well drained position.
Comments and Curiosities
External Links
References
Phonetic spelling of Latin names by edric.
Special thanks to Geoff Stein, (Palmbob) for his hundreds of photos.
Special thanks to Palmweb.org, Dr. John Dransfield, Dr. Bill Baker & team, for their volumes of information and photos.
Glossary of Palm Terms; Based on the glossary in Dransfield, J., N.W. Uhl, C.B. Asmussen-Lange, W.J. Baker, M.M. Harley & C.E. Lewis. 2008. Genera Palmarum - Evolution and Classification of the Palms. Royal Botanic Gardens, Kew. All images copyright of the artists and photographers (see images for credits).

Many Special Thanks to Ed Vaile for his long hours of tireless editing and numerous contributions.