Calyptrocalyx micholitzii
From Palmpedia - Palm Grower's Guide
Calyptrocalyx
(kah-lip-troh-KAH-liks)
micholitzii (mihk-oh-LIHTZ-ee)

West Papua, Indonesia. Photo by Dr. William J. Baker, Royal Botanic Gardens, Kew/Palmweb.
Scientific Classification
Genus:
Calyptrocalyx
(kah-lip-troh-KAH-liks)
Species:

micholitzii (mihk-oh-LIHTZ-ee)
Synonyms
None set.
Native Continent
Oceania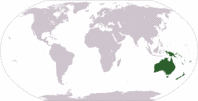 Morphology
Habit:
Solitary
Leaf type:
Bifid
Culture
Survivability index
Common names
Micholitz's Palm
Habitat and Distribution
Calyptrocalyx micholitzii is found in New Guinea rainforests, at around 1000 metres altitude.
Description
A very attractive, solitary palm that only gets to about 60cm to 1 metre high. The canelike stem has a few small, undivided leaves that are maroon when young and are often attractively mottled. calyptrocalyx only growing to 1 metre tall, dark maroon with a slight marbling through stem, this species also comes from around 1000 metres altitude and is quite cold tolerant. Editing by edric.
Culture
Grows well in subtropics and will flower around 30 cm tall. Best position; protected from full sun and dry cold winds, likes rich soil with regular watering. Great as an indoor plant. Warm, sheltered, and moist, although it is quite cold tolerant because of the altitude at which it is found.
Comments and Curiosities
External Links
References
Phonetic spelling of Latin names by edric.
Special thanks to Geoff Stein, (Palmbob) for his hundreds of photos.
Special thanks to Palmweb.org, Dr. John Dransfield, Dr. Bill Baker & team, for their volumes of information and photos.
Glossary of Palm Terms; Based on the glossary in Dransfield, J., N.W. Uhl, C.B. Asmussen-Lange, W.J. Baker, M.M. Harley & C.E. Lewis. 2008. Genera Palmarum - Evolution and Classification of the Palms. Royal Botanic Gardens, Kew. All images copyright of the artists and photographers (see images for credits).

Many Special Thanks to Ed Vaile for his long hours of tireless editing and numerous contributions.