Calyptrocalyx hollrungii
From Palmpedia - Palm Grower's Guide
Calyptrocalyx
(kah-lip-troh-KAH-liks)
hollrungii (hohl-ROON-gee)

Papua New Guinea. Photo by Dr. William J. Baker, Royal Botanic Gardens, Kew/Palmweb.
Scientific Classification
Genus:
Calyptrocalyx
(kah-lip-troh-KAH-liks)
Species:

hollrungii (hohl-ROON-gee)
Synonyms
Paralinospadix hollrungii
Native Continent
Oceania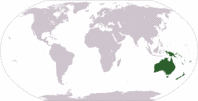 Morphology
Culture
Survivability index
Common names
Hollrung palm
Habitat and Distribution
Calyptrocalyx hollrungii is found in E. New Guinea, Rainforest, of Huon Peninsula.
Description
This is a small understory palm, that can reach heights of around 2 meters or so, depending on its location. This palm is a clustering species, and will start to sprout small sucklings after a few years of life. Leaf detail: It has a variable leaf shape, ranging from a single bi-fold shape to being entirely pinnate. The different leaf shapes have even been recorded on a single clump. New leaves emerge a bright red color, as can be seen in the pictures, and stay that color for a few weeks. Editing by edric.
Culture
Requirements: Nearly full shade, consistently moist soil, some cold tolerance.
Comments and Curiosities
Trunk may split into two growing points.
External Links
References
Phonetic spelling of Latin names by edric.
Special thanks to Geoff Stein, (Palmbob) for his hundreds of photos.
Special thanks to Palmweb.org, Dr. John Dransfield, Dr. Bill Baker & team, for their volumes of information and photos.
Glossary of Palm Terms; Based on the glossary in Dransfield, J., N.W. Uhl, C.B. Asmussen-Lange, W.J. Baker, M.M. Harley & C.E. Lewis. 2008. Genera Palmarum - Evolution and Classification of the Palms. Royal Botanic Gardens, Kew. All images copyright of the artists and photographers (see images for credits).

Many Special Thanks to Ed Vaile for his long hours of tireless editing and numerous contributions.