Calamus vitiensis
From Palmpedia - Palm Grower's Guide
Calamus (KAL-ah-muhs)
vitiensis (vee-tee-EN-sis)

Cape Kimberley road, near Cape Tribulation, QLD.
Scientific Classification
Genus:
Calamus (KAL-ah-muhs)
Species:

vitiensis (vee-tee-EN-sis)
Synonyms
Calamus vanuatuensis, (former name, until 1993)
Native Continent
Oceania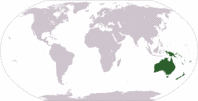 Morphology
Habit:
SOLITARY!
Leaf type:
Pinnate
Culture
Survivability index
Common names
FIJI: Ngganuya (Taveuni) NEW GUINEA: Wusiu (Manus). SOLOMON ISLANDS: Kalitao, Kalitau (Kwaraae). VANUATU: Gawolo (Vanua Lava).
Habitat and Distribution
Calamus vitiensis
is endemic to Bismarck Archipelago, Fiji, New Guinea, Queensland, Solomon Is.,
and Vanuatu. Known from scattered records in Papua New Guinea (Manus, Morobe, Madang, Southern Highlands), Australia (Queensland, as far south as Dunk Island), the Solomon Islands, Vanuatu and Fiji; the most easterly occurring species, in the genus Calamus. Various types of primary, and secondary forest vegetations, 60 - 750 m. Indigenous to Fiji, This palm is most wide-spread on Taveuni, but can also be found on some of the other islands. (W.J. Baker, R.P Bayton, J. Dransfield and R.A Maturbongs. 2003)/Palmweb.
Description
A climbing palm, with small black thorns on the stem, and along the leaf rachis, that also extends up to 1.5 meters beyond the end leaflets like a spiny whip. These hook like thorns, allow the palm to climb by attaching to neighbouring foliage. The palm can be seen holding itself erect, up to 4 meters and is quiet attractive with its shiny dark green leaflets, a light brown petiole, and very few thorns when young. Fruits are about 1 cm. round with attractive white scales. Editing by edric.
Detailed Scientific Description
Slender to robust, solitary rattan climbing to 15 m. Stem with sheaths 10 – 50 mm. in diam., without sheaths 7 – 22 mm. in diam.; internodes 12.5 – 33 cm. Leaf cirrate, to 3 m. long including cirrus and petiole (where present); sheath dark green, with caducous indumentum of brown to light grey, fibrous scales, spines absent to numerous, 1 – 40 × 0.3 – 2.5 mm., yellow-green to brown, planar, triangular, longer spines flexible, spine bases sometimes slightly swollen adaxially, spines usually of rather uniform size, sometimes of various sizes, spine surface with indumentum as on sheath, usually solitary or occasionally also with very few partial whorls of up to 6, spine impressions on sheath sometimes conspicuous, sheath mouth unarmed or lightly armed; knee 17 – 60 mm. long, 10 – 28 mm. wide, unarmed or lightly armed with short spines, colour and indumentum as on sheath; ocrea 2 – 4.5 mm., forming a low, woody, brown, unarmed or lightly armed, persistent collar, base of ocrea extending along petiole to an acute angle; flagellum absent; petiole 0 – 45 mm, 7 – 19 mm wide and 4.5 – 9 mm thick at base, channelled or flat adaxially, rounded abaxially, indumentum as on sheath, unarmed or with few to many short triangular spines; rachis 1.2 – 2 m., unarmed or with spines and indumentum as petiole near base, with grapnel spines on abaxial surface of distal portion of rachis; pinnae 10 – 22 each side of rachis, often drying dark green, arranged regularly or in widely spaced pairs, the leaflets in each pair sometimes divergent, broadly lanceolate, cucullate, longest pinnae near middle of leaf, 18 – 43 × 3.5 – 7 cm., apical pinnae 7 – 23.5 × 0.9 – 1.5 cm., distal leaflets widely spaced, basal leaflets small, leaflet surfaces unarmed or with very few bristles 0.8 – 2.2 mm on adaxial surface of mid-rib and other major veins, pinnae margins unarmed, or with very few bristles 0.2 – 5 mm., most numerous near apex, with indumentum as on sheath sometimes scattered throughout adaxial surface of pinnae, transverse veinlets inconspicuous; cirrus 0.6 – 2 mm., cirrus grapnel spines arranged regularly. Staminate inflorescence, limited material seen, similar to pistillate inflorescence, but branched to 3 orders, bracts on primary and secondary branches funnel-shaped. Staminate flowers not seen. Pistillate inflorescence, up to about 2 m. long, including 26 – 33 cm. peduncle, and sterile tip to about 50 cm. (W.J. Baker, R.P Bayton, J. Dransfield and R.A Maturbongs. 2003)/Palmweb.
A relatively broad concept of C. vitiensis, has been employed here as a pragmatic solution, to an intractable taxonomic problem. Highly variable and widely distributed, Calamus vitiensis can be recognised by its simple triangular spines, which are usually of rather uniform size and are only slightly swollen at the base, and by the regular arrangement of cirrus grapnel spines. In addition, the sheath spines in most forms are largely solitary whereas the sheath spines of other members of the C. aruensis complex, are usually at least partly organised into partial whorls, with solitary spines interspersed among the whorls. Rarely, partial whorls of up to six spines, may be observed intermixed with solitary spines, but it is possible that this feature is accentuated in juvenile sheaths. Calamus aruensis, bears sheath spines of rather uniform size, and in less heavily armed forms, whorled sheath spines may not be present, but it is immediately distinguished from C. vitiensis, by its cirrus with irregularly arranged grapnel spines. Unarmed forms occur in both C. vitiensis and C. aruensis, but again the cirrus morphology can be used to distinguish them. In New Guinea, Calamus vitiensis may also be confused with C. pachypus, but it lacks the conspicuously swollen spine bases, that are so characteristic of C. pachypus, as well as sheath spines consistently organised into whorls. Regional entities can be recognised within the variation of C. vitiensis. In New Guinea, all forms appear to have pinnae, grouped in divaricate pairs and sheaths, when armed, with rather short spines. Even more uniform is the Australian form with similar leaf morphology to the New Guinea form, but with larger and more numerous sheath spines. In the west Pacific, from the Solomon Islands to Vanuatu and Fiji, the species bears regularly arranged pinnae, and some specimens display conspicuous brown indumentum on the leaf sheath. A narrower species concept might be advocated by some, but the characters distinguishing these regional forms are so limited and unreliable that formal taxonomic recognition cannot yet be justified. Further study, especially in the west Pacific, is required to clarify further the taxonomy of this species. The holotype of C. vitiensis was destroyed in Berlin, and the isotype at Florence consists only of a single pistillate rachilla, and a fragment of a fruit. However, we are able to use the name with confidence, because of the detailed protologue, which includes a photograph of the holotype, and because no other rattan species is known from Fiji, the country of origin of the type. No appreciable differences can be discerned between C. vitiensis, and the type of C. vanuatuensis, despite assertions to the contrary, in the protologue of the latter. Similarly, C. stipitatus, fits well within the range of variation accepted for C. vitiensis here. The distinctive stipitate pistillate flower clusters, that are present on the type of C. stipitatus, are formed by elongation of the axis of the terminal sterile staminate flower, which is otherwise usually condensed, and adnation of the floral bracteole to that axis. This feature is also found in some other specimens of Calamus vitiensis. (W.J. Baker, R.P Bayton, J. Dransfield and R.A Maturbongs. 2003)/Palmweb.
Culture
This palm requires shade when young, it will grow upwards needing support, after 4 to 6 meters in height.
Comments and Curiosities
Uses: General cordage, cane for tying houses, for making swings for children, sap from cut stem used for curing eye ailments. (W.J. Baker, R.P Bayton, J. Dransfield and R.A Maturbongs. 2003)/Palmweb.
External Links
References
Phonetic spelling of Latin names by edric.
Special thanks to Geoff Stein, (Palmbob) for his hundreds of photos.
Special thanks to Palmweb.org, Dr. John Dransfield, Dr. Bill Baker & team, for their volumes of information and photos.
Glossary of Palm Terms; Based on the glossary in Dransfield, J., N.W. Uhl, C.B. Asmussen-Lange, W.J. Baker, M.M. Harley & C.E. Lewis. 2008. Genera Palmarum - Evolution and Classification of the Palms. Royal Botanic Gardens, Kew. All images copyright of the artists and photographers (see images for credits).
Baker, W.J. , Bayton, R.P , Dransfield, J. & Maturbongs, R.A. 2003. A revision of the Calamus aruensis (Arecaceae) complex in New Guinea and the Pacific. Kew Bulletin 58: 351-370.

Many Special Thanks to Ed Vaile for his long hours of tireless editing and numerous contributions.