Salacca dransfieldiana
From Palmpedia - Palm Grower's Guide
Salacca (SAH-lahk-kah)
dransfieldiana
(dransfield'-ee-AHN-ah)

Kiu, Meratus Mountains, Kalimantan Selatan, Indonesia. Photo by Dr. John Dransfield, Royal Botanic Gardens, Kew/Palmweb.
Scientific Classification
Genus:
Salacca (SAH-lahk-kah)
Species:

dransfieldiana
(dransfield'-ee-AHN-ah)
Synonyms
None set.
Native Continent
Oceania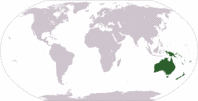 Morphology
Culture
Survivability index
Common names
None.
Habitat and Distribution
Salacca dransfieldiana
is
Endemic to Borneo.
Description
A small, clustering palm, with simple notched leaves. It is dioecious, but female plants are unknown, so it is thought that all the existing plants are vegetative offspring of male plants.
Culture
Warm, sheltered and moist. Can tolerate temperatures down to 3°C., but will sustain significant damage. Cold Hardiness Zone: 10a
Comments and Curiosities
This is an extremely rare palm which very little is known. Indigenous to Borneo. It is perhaps best described as resembling a very dwarf version of Salacca magnifica. The most interesting feature or fact concerning this palm is that it is dioecious, meaning for seeds a male and a female plant are necessary. There are no female plants known to exist, so, as in the case of ours, all the existing plants are vegetated offspring of a single parent.
External Links
References
Phonetic spelling of Latin names by edric.
Special thanks to Geoff Stein, (Palmbob) for his hundreds of photos.
Special thanks to Palmweb.org, Dr. John Dransfield, Dr. Bill Baker & team, for their volumes of information and photos.
Glossary of Palm Terms; Based on the glossary in Dransfield, J., N.W. Uhl, C.B. Asmussen-Lange, W.J. Baker, M.M. Harley & C.E. Lewis. 2008. Genera Palmarum - Evolution and Classification of the Palms. Royal Botanic Gardens, Kew. All images copyright of the artists and photographers (see images for credits).

Many Special Thanks to Ed Vaile for his long hours of tireless editing and numerous contributions.