Metroxylon salomonense
From Palmpedia - Palm Grower's Guide
Metroxylon (meht-ROKS-ih-lohn) salomonense
(sah-loh-moh-NEN-seh)

French Guiana. Photo by jpflatres.
Scientific Classification
Genus:
Metroxylon (meht-ROKS-ih-lohn)
Species:
salomonense
(sah-loh-moh-NEN-seh)
Synonyms
None set.
Native Continent
Oceania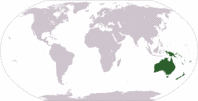 Morphology
Culture
Survivability index
Common names
Solomon Ivory Nut Palm
Habitat and Distribution
Bismarck Archipelago, New Guinea, Santa Cruz Is., Solomon Is., and Vanuatu.
Lowland forest and freshwater swamps, usually near sea level but also found at elevations up to 700 metres. Metroxylon palms usually occur in lowland swamps, but occasionally also on hillsides.; - Metroxylon amicarum. Thrives inland on hill slopes, and in dry conditions.; - Metroxylon salomonense; Is often cultivated well away from swampy areas, sometimes on high ridges.; - Metroxylon vitiense, On Viti Levu Island (Fiji) it is very abundant on lowland gley soil, and occurs occasionally in dryland forest. In one of the major wetland sites, the Vunimoli wetlands, there are almost pure stands on the wet gley soils on the colluvium and alluvium in the valleys upstream of the coastal plain. This is the only extensive wetland forest (262 ha) in Fiji and includes most of the Metroxylon vitiense population. On wet gley soils, Metroxylon vitiense forms a distinctive vegetation type. It also occurs on adjacent hillsides in association with a variety of trees. (proseanet.org)
Description
A very large and immensely fast growing palm from New Guinea and the Solomon Islands with a thick trunk to 20 m (66 ft.) tall and an erect crown of leaves arching at the tip. The baseball-sized fruits have scaly, snakeskin-like appearance and are produced on a large, terminal inflorescence. (RPS.com)
Metroxylon salomonense is a solitary-stemmed palm, growing up to 25 metres tall. The un-branched stem can be 25 - 55 cm in diameter, topped by a rosette of leaves that can each be 7 metres or more long. A very important tree for the local economy of native people, providing them with food, medicines and a wide range of other materials. The hard seeds are exported to Alaska, where the Inuit carve them in place of sea-mammal ivory. Editing by edric.
Detailed Scientific Description
Metroxylon salomonense; Solitary, hapaxanthic (monocarpic); stem 9-20 m tall, up to 55 cm in diameter; leaves 9-11 m long, bearing spines in transverse series; inflorescence suprafoliar, first-order branches erecto-patent, 3-4 m long, second-order branches spreading, rachillae (here third-order branches) pendulous and about 20 cm long; fruit 5.5-6.5 cm long, 7-9 cm wide, with 24-27 rows of yellowish scales, depressed at base and apex. Metroxylon warburgii; Solitary, hapaxanthic (monocarpic); stem 6-7 m tall, up to 30 cm in diameter; leaves up to 3 m long, bearing spines in transverse ridges or series; inflorescence suprafoliar, branched to 3 orders, all branches erecto-patent, first order branches 1-1.5 m long; flowers large, corolla up to 1 cm long; fruit inversely pear-shaped, (4-) 7-12 cm long, (3.5-)6-9 cm wide, with 24 rows of red-brown scales; seed in upper, wider part. Metroxylon vitiense; Solitary, hapaxanthic (monocarpic); stem 5-10 (-15) m tall, up to 50 cm in diameter; leaves up to 5 m long, with brown spines, leaflets in one plane, petiole short (long in seedling leaves); inflorescence suprafoliar, first-order branches erecto-patent, 2-2.5 m long, second-order branches pendulous, 20 cm long, each with 8-9 rachillae (third-order branches); fruit conical, 7 cm long, 5 cm wide, with 27-28 rows of yellow-brown scales. (proseanet.org)
Culture
Growing Climate: -Temperature best above 10 C. but will handle short periods down to as low as 2 C. and up to 40 C. (Utopia Palms & Cycads.com)
read more
A plant of the humid, tropical, lowland forests, able to succeed at elevations up to 700 metres. It prefers a mean annual rainfall in the range 2,000 - 5,000 mm, and does not tolerate more than a short dry period. It prefers a mean annual temperature of around 25°c with a minimum of 17°c. It is not tolerant of frost, though it can succeed in cooler areas of the tropics such as Hawaii, but then grows more slowly. Prefers a relatively sunny position. Succeeds in a wide range of soils, preferring medium to heavy soils with somewhat impeded drainage. It can persist on well drained, poor quality materials including sand, clay, or 'aï' lava. It will grow in soil that is periodically inundated by salt water as long as fresh water flow is more prevalent. Plants are not very tolerant of water shortage, but nor do they like inundation for more than short periods. Succeeds in a wide range of pH, from 4 - 7.4. Plants are tolerant of strong, salt-laden winds. Plants usually take 12 - 15 years to come to flowering maturity from seed, though in ideal conditions this can be reduced to about 10 years. A monocarpic species, they only flower once and then die.
Propagation: The seed loses its viability rapidly when stored and does not tolerate dry conditions. It is best sown as soon as it falls from the tree, usually germinating within 1 - 2 months. They germinate best at a temperature of 30°c, though temperatures above 38°c can harm the seeds. Seeds sometimes germinate whilst still attached to the infructescence and can grow to a height of 90 - 120 cm before falling to the ground. Germination can be sped up if the seed husk is removed and the covering over the embryo is loosened. Care should be taken not to damage the embryo. The large seed size and rapid early growth mean this species is well suited for direct-seeding in the field, assuming conditions are consistently moist. Seedlings can also be germinated in a nursery and transplanted bareroot. They transplant well as long as the roots are not bound. Plants should be planted out as soon as possible. Although best planted out whilst fairly small, specimens with several sub-mature leaves 1 - 2 metres long and a well developed root system have been successfully planted out. Cold Hardiness Zone: 11 (Traditional Trees of Pacific Islands)
Comments and Curiosities
read more
Uses: Sago is sometimes prepared from the pith of this tree. Not as productive as the sago palm (Metroxylon sagu), it is more likely to be viewed as an emergency food. The apical meristems or palm hearts are large and soft. The trees may be harvested prior to maturation exclusively for this purpose, with the meristem and several feet of the immature leaves being used. These palm hearts are used locally or are sold in local markets. They are eaten raw as a vegetable or cooked with other foods, often in curries. Harvesting the palm heart leads to the death of the tree since it is unable to produce side branches. Immature seeds are sometimes eaten by children.
Agroforestry Uses: Especially when in wetter soils, the roots help to stabilize the soil by trapping silt. Young palms, with their numerous spines, act as effective barriers for livestock and potential trespassers. As the palms mature and develop above-ground stems, new palms may be planted adjacent to the juveniles to maintain the spininess of the fence.
Other Uses: The large, very hard, ivory-like seeds are used to make a range of carved items. The leaves and their petioles have a wide range of applications. In particular, they are one of the major sources of thatch, roofs made from these leaves are said to last for 5 years. In addition, the leaflets can be woven into temporary baskets or used to line cooking pits. Gourd bottle-corks/stoppers are made from lightly rolled discs of sago leaves. Whole leaves are used to cover and protect dry-stored canoes. The leaf sheaths are commonly covered externally with rough spines and/or rib-like protuberances. These rough sheaths have served as rasps in the preparation of sago and other food products that must be grated. The stiff, hard midribs may be used to make brooms, may serve as temporary sewing needles or pins, or may be used as thatch sheet skewers. The smooth inner surface of the sheaths can be used as temporary containers, and as kneading boards for bread made from sago. Children sometimes make surfboards from the petiole base (leaf sheath) that can be up to one metre wide. Bats, balls, and rafts are made by children from the leaf base.
The wood (outer cortex) of the stems is used as flooring and as planking for crossing short streams or swampy areas. The wood is not reported as being long lasting or durable, but is employed as a by-product by those who extract starch. Wood has also been used as house rafters and as wall material, although this is an infrequent usage. The bark can be used as a fuel. (Traditional Trees of Pacific Islands)
"Metroxylon salomonense, with its massive terminal bloom spike, was one of the palm prizes in the Botanic Garden in Lae. It comes from the Solomon Islands, part of which lie within the nation of Papua New Guinea. Various species of this genus, have dense stores of edible starch in their trunks, and are called Sagos." (Frederick B. Essig) See photo below & external link.
Unlike Metroxylon sagu, which is propagated almost exclusively from basal offshoots, the other Metroxylon species can only be propagated from seed. Metroxylon salomonense is normally propagated by sowing in situ, but sometimes germinated seed is transplanted. (proseanet.org)
The origin of Metroxylon is disputed: Moluccan, Moluccan and New Guinean, or Melanesian. It only occurs in South-East Asia and several island groups of Micronesia and Melanesia. The distribution areas of the five species in this genus within this area are neighbouring but hardly overlap. Metroxylon sagu is the most widespread and naturalized throughout South-East Asia. The other four occur from the Federated States of Micronesia and the Bismarck Archipelago north of New Guinea to Western Samoa far to the east of it.; - Metroxylon amicarum is found in the Federated States of Micronesia (native in Pohnpei and Truk, probably planted in Nukuoro, and in Kusaie), and cultivated in the Philippines and in Guam.; - Metroxylon salomonense grows in Papua New Guinea (north-eastern New Guinea, Bismarck Archipelago, Bougainville Island), throughout the Solomon Islands (e.g. Guadalcanal, Santa Cruz Islands), and in Vanuatu (probably imported).; - Metroxylon warburgii is found in Vanuatu (indigenous), in West Samoa, and in the Fijian depency Rotuma, while its occurrence on Tikopia in Solomon Islands is uncertain.; - Metroxylon vitiense only occurs in Fiji (e.g. on Viti Levu, Vanua Levu, and Ovalau). (proseanet.org)
The main useful products from Metroxylon palms are starch from the pith of the trunks, roof thatch from leaflets, and vegetable ivory from the hard endosperm of seeds.; The four more easterly occurring Metroxylon species have always been used far less for starch than Metroxylon sagu, and since the 1950s their use has died out in most places where they occur. There are no reports of the starch in Metroxylon amicarum trunks being exploited. At present, Rotuma (Fiji) is the easternmost point where starch is produced from these species, i.e. Metroxylon warburgii.; Metroxylon thatch is widely preferred to Nypa and Cocos thatch in many parts of South-East Asia and the Pacific where these palms are available together.; Vegetable ivory is derived not only from the corozo nuts (Phytelephas macrocarpa Ruiz & Pavon) of Ecuador and Peru, but also from the fruits of Metroxylon species. The most usual source used to be Metroxylon salomonense, with much smaller amounts coming from Metroxylon amicarum and even less from the fruits of Metroxylon warburgii and Metroxylon vitiense. Buttons were the main objects manufactured, though chessmen, umbrella handles and other ornaments were also made. The demand for vegetable ivory has dwindled since the introduction of plastics.; Other uses and main site-specific uses are:; - Metroxylon salomonense. There are recent reports of the use of starch extracted from the pith in East Futuna, Anuta, Tikopia and Kolombangara in the western Solomons, and from the Santa Cruz Islands. Unprocessed pith from the trunk is fed to domestic pigs. Building material from the leaves is the most important use (the universal thatch provider). Starch from the trunk is collected and processed throughout Bougainville Island (Papua New Guinea). Fronds are used for thatching throughout the islands of Bougainville and Buka. The plant is an item of the nursery trade in ornamental plants in northern Queensland, Australia.; - Metroxylon warburgii. In Vanuatu (New Hebrides), the people only know of the tradition of extracting and using the starch from this palm as food. Nowadays they value Metroxylon warburgii solely for its leaves and trunks, which they use to build houses. In Rotuma (Fiji), starch extracted from the trunk is used to thicken soups and stews, to starch clothing, and is cooked (e.g. baked or fried after being wetted and wrapped in a banana leaf); the midribs of leaflets are used to make brooms; immature fruits are eaten raw after the pericarp has been removed. In western Samoa the practice of using starch from this palm has almost been forgotten.; - Metroxylon vitiense. In Fiji, starch from the trunk is only occasionally extracted; leaves used to be, and indeed still are, applied in thatching.; - Metroxylon spp. On Tikopia (Santa Cruz Islands in the Solomons), an undocumented Metroxylon species (`rakau ota`) - probably Metroxylon warburgii, but possibly Metroxylon salomonense - is used: its trunk for starch, its leaflets for thatch, and its petioles to make rafts. The starch is used in times of scarcity, but it is also regarded as a delicacy (a food particularly for infants and the elderly). It is often used as an emollient to mix with other foods to give them bulk, flavour, and smoothness.; In Bougainville Island (Papua New Guinea), an undocumented Metroxylon species - Metroxylon salomonense or Metroxylon sagu - is regularly used for starch; sago beetle grubs are also collected from this palm, and burnt petioles were an important source of salt until the 1950s. As starch plants, Metroxylon species other than Metroxylon sagu are not very productive, and cannot be readily propagated vegetatively. The effort needed to produce food from these palms compares unfavourably with other ways of procuring food energy. They are, however, useful as emergency food; during the life cycle of the once-flowering species, harvestable quantities of starch remain stored in the live trunk for several years.; Their importance as providers of thatch will slowly decline as more durable building materials take over.; The role of vegetable ivory in manufacturing has since long been taken over by synthetic products. Vegetable ivory from Metroxylon species may play a modest role in local tourist industries as a material for carving souvenirs. (proseanet.org)
External Links
References
Phonetic spelling of Latin names by edric.
Special thanks to Geoff Stein, (Palmbob) for his hundreds of photos.
Special thanks to Palmweb.org, Dr. John Dransfield, Dr. Bill Baker & team, for their volumes of information and photos.
Glossary of Palm Terms; Based on the glossary in Dransfield, J., N.W. Uhl, C.B. Asmussen-Lange, W.J. Baker, M.M. Harley & C.E. Lewis. 2008. Genera Palmarum - Evolution and Classification of the Palms. Royal Botanic Gardens, Kew. All images copyright of the artists and photographers (see images for credits).

Many Special Thanks to Ed Vaile for his long hours of tireless editing and numerous contributions.