Cyphokentia cerifera
From Palmpedia - Palm Grower's Guide
Cyphokentia (sigh-foh-kent-EE-ah)
cerifera (seh-rih-FEHR-ah)

Location: Touho, New Caledonia.
Scientific Classification
Genus:
Cyphokentia (sigh-foh-kent-EE-ah)
Species:

cerifera (seh-rih-FEHR-ah)
Synonyms
Moratia cerifera
Native Continent
Oceania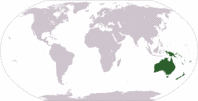 Morphology
Culture
Survivability index
Common names
Moratia palm
Habitat and Distribution
Cyphokentia cerifera
is endemic to New Caledonia, This species is found on the northeast
side of the mainland. In rain forests. Substratum: In areas consisting primarily, of deep sedimentary substrate, (shale or mica).
Description
Hight: up to 20 m. with a trunk diameter of 18 cm., crownshaft at maturity, first orange, then turning reddish brown, then covered by a powdery white, waxy coating, with reddish orange beneath. Crown holds between 8 to 10, markedly recurved pinnate leaves, 1 to 1.80 m. long, with a petiole 10-22 cm. long, covered with green and brown scales; sheath from 50 to 95 cm. long, orange or pink to lilac, and covered with a white wax outside, orange inside. Inflorescences arise under leaves, virtually splitting the base of the crownshaft, 1 x 1.5 m. long, a green, or greenish orange color, rather murky, branched and spreading, pendulous after anthesis. Fruit is thick, globose, 11-13 x 12-14 mm., red to black when ripe, seeds 6 x 8 x 6 mm. Editing by edric.
Culture
Very slow growing. Reportedly very difficult to germinate. Hardiness: USDA Zone: 10a
Comments and Curiosities
"Very rare, slow growing monotypic genus from New Caledonia...has a wonderfully white powdery crownshaft with red-orange beneath, and markedly recurved pinnate leaves (solitary palm). No experience with it in California, but if they grow any slower than they do in the tropics, it will be generations before anyone finds out. Reportedly very difficult to even germinate." (Geoff Stein 2007)
External Links
References
Phonetic spelling of Latin names by edric.
Special thanks to Geoff Stein, (Palmbob) for his hundreds of photos.
Special thanks to Palmweb.org, Dr. John Dransfield, Dr. Bill Baker & team, for their volumes of information and photos.
Glossary of Palm Terms; Based on the glossary in Dransfield, J., N.W. Uhl, C.B. Asmussen-Lange, W.J. Baker, M.M. Harley & C.E. Lewis. 2008. Genera Palmarum - Evolution and Classification of the Palms. Royal Botanic Gardens, Kew. All images copyright of the artists and photographers (see images for credits).

Many Special Thanks to Ed Vaile for his long hours of tireless editing and numerous contributions.