Burretiokentia vieillardii
From Palmpedia - Palm Grower's Guide
Burretiokentia
(bur-ret-ee-oh-kent-EE-ah)
vieillardii (vee-ehl-LAHR-dee)

Crownshaft, Hawaii.
Scientific Classification
Genus:
Burretiokentia
(bur-ret-ee-oh-kent-EE-ah)
Species:

vieillardii (vee-ehl-LAHR-dee)
Synonyms
Kentia vieillardii
Native Continent
Oceania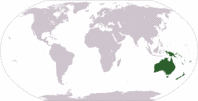 Morphology
Culture
Survivability index
Common names
None.
Habitat and Distribution
Burretiokentia vieillardii
is found in the rainforests, of New Caledonia. This species is widespread throughout the mainland.
Habitat: In rain forest on slopes or in gallery forest. Substrate: On ground more or less deep on ultramafic and sedimentary substrate (shale), schistose or ultramafic rocks. It occurs from one end of the island to the other, seemingly wherever one enters the forest, and often forms large, gregarious populations. 400-1300 m. elevation. (From the French)
Description
Palm gregarious 10 to 20 m. high, trunk 10 to 18 cm. in diameter with conspicuous leaf scars, often adventitious roots at the base, sometimes forming several cones. Trunk type: Solitary, crownshaft, has spectacular pin stripes, Flower: emerges beneath crownshaft. Spread: To 4 meters. Leaf detail: Pinnately compound, diametrically opposed pinnae, light green, erect, spanning over two meters in length. Crown holds 8 to 12 leaves, from 1.5 to 2.5 m. long, with petiole 4-20 cm.; leaf sheath, 40 to 100 cm., with a tomentum more or less dense, brown or grayish brown. Phenology (flower): Inflorescences 2-5, 40 - 70 cm. long, horizontal or pendulous, creamy white through to green fruit. Fruit ellipsoid, or more or less globose, 2 x 1 cm., purple when ripe, with a footprint more or less apical stigmatic. Brown tomentum, all other Burretiokentia species have white tomentum. (From the French, edric.) Editing by edric.
Culture
Requirements: Full sun, when mature, consistently moist soil. Special note: Pin stripes are difficult, to maintain in cultivation. Year round fruiting, while others are seasonal...Rare in cultivation. This palm has proved rather difficult to grow in South Queensland, and this I think is because of lack of attention to its requirements. As a seedling it requires quite heavy shade and ample amounts of water and humidity. It also wants a rather alkaline soil.
Comments and Curiosities
External Links
References
Phonetic spelling of Latin names by edric.
Special thanks to Geoff Stein, (Palmbob) for his hundreds of photos.
Special thanks to Palmweb.org, Dr. John Dransfield, Dr. Bill Baker & team, for their volumes of information and photos.
Glossary of Palm Terms; Based on the glossary in Dransfield, J., N.W. Uhl, C.B. Asmussen-Lange, W.J. Baker, M.M. Harley & C.E. Lewis. 2008. Genera Palmarum - Evolution and Classification of the Palms. Royal Botanic Gardens, Kew. All images copyright of the artists and photographers (see images for credits).

Many Special Thanks to Ed Vaile for his long hours of tireless editing and numerous contributions.