Ptychosperma elegans
From Palmpedia - Palm Grower's Guide
Ptychosperma (tee-koh-SPEHR-mah) elegans (EHL-eh-ganz)

Photo-lucidcentral.org
Scientific Classification
Genus:
Ptychosperma (tee-koh-SPEHR-mah)
Species:
elegans (EHL-eh-ganz)
Synonyms
Seaforthia elegans
Native Continent
Oceania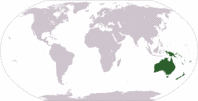 Morphology
Culture
Survivability index
Common names
Solitaire Palm
Habitat and Distribution
Florida, Northern Territory, Queensland, Society Is.
Description
Solitaire palm is native to eastern Queensland, Australia where it occurs in coastal rainforests. In America, solitaire palm grows best where temperatures do not drop below 35°F because it is not very cold hardy. It prefers full sun to partial shade and can reach heights of 20 feet. The pinnately compound leaves or fronds can reach lengths of 6 to 8 feet and are attached to a 1-foot-long petiole or stem. They are dark green on the topside and gray-green on the underside. Leaflets are 2-foot-long, narrowly oblong blades that are bluntly squared and jagged at the tip. They grow opposite from one another on the rachis, displaying a "V-shaped" appearance. The slim trunk grows to a maximum diameter of 4 inches, is light gray or almost white, and has dark leaf base scars that encircle the trunk and lighten in color with age. On top of the trunk sits a two foot tall olive-green crownshaft (from which the fronds emerge). The crownshaft has a bulging base and smooth waxy surface. The heavily branched, green-yellow inflorescences are 2 to 3 feet long and appear just below the crownshaft. Inflorescences produce white male and female flowers. Fruits are bright red, about one inch in diameter, and egg shaped. (EDIS University of Florida.)
A medium sized palm, P. elegans has a solitary trunk usually about 3-4"/7-10cm in diameter. It's crownshaft is a distinctively olive colored with a silvery, waxy coating on its outer surface. The leaves are about 6-8'/1.8-2.4m long on mature specimins and the leaflets are wide, terminate abruptly and jagged, and held at a stiff "V" angle to the rachis.
Culture
This palm will grow in sun or shade as long as it's kept well watered. Constantly moist soil is very important if grown in full sun in areas with lower humidity levels. As with most palms, P. elegans does better if given a rich, humus laden soil. The small red fruit are quickly cleaned and the ridged seed put in shallow trays, where most will germinate in three months. Standard horticultural practice will produce a 1.5m specimen in 2 years, ready to plant in a semi-shaded position. They do equally well in sun or shade, but extremes of heat or dry wind will scorch even the most well watered mature specimen.
"They can take full sun. But I would plant them under tree canopy here and not out in the open. They are still very marginable around here except in the warmest microclimates." (Eric S.)
"Oceanside, CA. Mine is a big 5 gal, covered with sheet, outside the sheet 26F twice. No damage noticed." (Bill Sanford)
read more
"Palmetto, FL zone 9b. Major defolliation of small 5 gallon size multi trunk in the winter of 2010, 28 F plus frost(this one was under cover, no frost). It languished afterward and died of a fungal infection in spite of multiple treatments. When I consider what also was exposed and survived at the same size: Beccariophoenix alfredii, kentiopsis oliviformis, syagrus x montgomeryana, Dypsis pembana, Phoenix rulicola, I think this is a 10a palm, not 9b. the other aforementioned palms are probably 9b. Other palms that also died include ~5gal size Beccariophoenix windowpane palm, foxtails, royals, and foxy ladies, these are 10a also." (Tom Blank (sonoranfans)
"Like others have noticed, they'll spot a bit when it gets cold, but they are quite hardy, down into the high 20's at least. I had a couple of small trunking specimines (under canopy) that saw 33, 29, 27, 24, 28, 31, 33, on consecutive nights in '07 and aside from lots of spotting and leaf burn, recovered nicely. If you have a climate that lacks summer growing heat then you might not have luck because they like the warmth during the growing season." (Spring Valley, CA (San Diego County). Matty Bradford)
"This is one of the only 'hardy' Ptychosperma species by So Cal standards... it can handle temps into the high 20F range without any problems. It is a pretty fast growing palm here and makes a great landscape specimen if keep out of the high, drying cold winds we get in the fall. It has arching leaves with wide, premorse (bitten off at the ends) leaflets. This is one of the few solitary Ptychosperma species (most are clustering). It has many similar cultivational requirements as the common king palm." (Geoff Stein)
Comments and Curiosities
Etymology: Ptychosperma means "a folded seed" and comes from two Greek words: ptycho, or "a fold," and sperma, or "seed." Species name elegans is the Latin term for "graceful" or "elegant."
"Ptychosperma elegans seems to be variable. Some have stiffer more upright leaflets and others, droopier." (Eric S. Botanist H.P. Leu Gardens, Orlando, FL.)
Solitaires are produced in the thousands by nurseries in the south as indoor or patio palms. Given a shady spot, they grow slim and elegant, holding a crown of dark green leaves above a green crownshaft. Irrigation, fertilizer and mulch are necessary. No garden would be without the odd corner to accommodate a specimen or two. Not used very much in public plantings, but popular locally (Northern Territory) as a tub palm. Becoming very popular with landscapers because the leaves aren't as big and hard to deal with as the widely used Archontophoenix alexandrae. (Palms & Cycads No. 20 July-Sept 1988)
External Links
References
Phonetic spelling of Latin names by edric.
Special thanks to Geoff Stein, (Palmbob) for his hundreds of photos.
Special thanks to Palmweb.org, Dr. John Dransfield, Dr. Bill Baker & team, for their volumes of information and photos.
Glossary of Palm Terms; Based on the glossary in Dransfield, J., N.W. Uhl, C.B. Asmussen-Lange, W.J. Baker, M.M. Harley & C.E. Lewis. 2008. Genera Palmarum - Evolution and Classification of the Palms. Royal Botanic Gardens, Kew. All images copyright of the artists and photographers (see images for credits).

Many Special Thanks to Ed Vaile for his long hours of tireless editing and numerous contributions.