Normanbya normanbyi
From Palmpedia - Palm Grower's Guide
Normanbya (nor-mahn'-bee-ah)
normanbyi (nor-mahn'-bee)

"Two left in a nursery block, the rest presumably have been dug up and sold. Queensland, Australia." Photo by tanetahi.
Scientific Classification
Genus:
Normanbya (nor-mahn'-bee-ah)
Species:

normanbyi (nor-mahn'-bee)
Synonyms
None set.
Native Continent
Oceania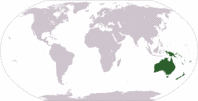 Morphology
Culture
Survivability index
Common names
Black Palm.
Habitat and Distribution
Normanbya normanbyi is a monoecious, arborescent palm with a very small distribution
area within the Daintree rainforest in north-eastern Australia, it grows in wet rainforests, often along rivers or creeks, and also in swampy areas in lowlands, up to 300 m. elevation. This palm is indigenous to northeastern Queensland, Australia, and naturalized in New Guinea.
Description
This is a tall, handsome palm, growing about 20 metres (60 feet) tall, with a 4 metre (12 foot) leaf spread. The trunk is smooth, slender, and closely ringed, and becomes almost black as the palm gets older. There is a pale green crownshaft, topped with a small head of leaves. These consist of many narrow leaflets, arranged circularly around the leaf stalk, which gives it a very bushy appearance, very similar to the Foxtail palm, Wodyetia bifurcata. In fact, the two palms are very difficult to tell apart, the main difference being that N. normanbyi has a silverish tinge to the underside of the leaves. The green inflorescence comes from below the crownshaft, and gives rise to 5 cm (2 inch) long pear-shaped, light-brown coloured fruit. Editing by edric.
Culture
Filtered light when young, full sun when mature, the Black Palm requires a deep, friable soil, which can be slightly on the acidic side and regular moisture. The leaves on seedlings are rather scrawny and unattractive, and it isn't until the palm gets to several metres high that the thick plumed leaves appear. This palm doesn't ever like to dry out, and also likes high humidity. Black Palms are quite hardy when mature and can withstand temperatures below freezing point.
Comments and Curiosities
This is a monotypic genus.
Our 2-year study was focused on the reproductive phenology at the individual and population level. At the population level flowering peaked in the dry season, whereas fruiting was confined to the wet season. Each palm can bear up to three inflorescences/infructescences at the same time. Flowering of each inflorescence is separated from each other by a couple of weeks. A single inflorescence consists of about 1900 staminate and 800 pistillate flowers. The flowering of N. normanbyi is protandrous with a staminate phase lasting 40 days and a pistillate phase of approximately 2 weeks. Between both phases is a non-flowering phase of about 9 days. Fruit ripening takes 21 weeks, with an average of about 280 ripe fruit per tree. Comparison of three study plots revealed a moderate synchrony of flowering and fruiting initiation in this species of palm. The male phase of flowering shows a higher degree of synchrony than the female phase at the population level. Seasonal regularity of flowering and fruiting peaks appears to be predictable. The general flowering and fruiting phenology of N. normanbyi follows a subannual pattern with a strong tendency towards a continual pattern.
Conservation: This uncommon species is in decline because of land clearance. It is listed in the Nature Conservancy Act (Queensland) 1994. Vulnerable.
External Links
References
Phonetic spelling of Latin names by edric.
Special thanks to Geoff Stein, (Palmbob) for his hundreds of photos.
Special thanks to Palmweb.org, Dr. John Dransfield, Dr. Bill Baker & team, for their volumes of information and photos.
Glossary of Palm Terms; Based on the glossary in Dransfield, J., N.W. Uhl, C.B. Asmussen-Lange, W.J. Baker, M.M. Harley & C.E. Lewis. 2008. Genera Palmarum - Evolution and Classification of the Palms. Royal Botanic Gardens, Kew. All images copyright of the artists and photographers (see images for credits).

Many Special Thanks to Ed Vaile for his long hours of tireless editing and numerous contributions.