Metroxylon vitiense
From Palmpedia - Palm Grower's Guide
Metroxylon (meht-ROKS-ih-lohn)
vitiense (vee-tee-EN-seh)

Fairchild Tropical Botanic Garden, Miami, FL. Photo by Dr. Scott Zona.
Scientific Classification
Genus:
Metroxylon (meht-ROKS-ih-lohn)
Species:

vitiense (vee-tee-EN-seh)
Synonyms
None set.
Native Continent
Oceania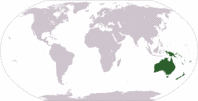 Morphology
Culture
Survivability index
Common names
Soga, Fiji Sago Palm.
Habitat and Distribution
Fiji Islands, and Wallis-Futuna Is. Metroxylon vitiense commonly grows in Lowland swampy forests. Formerly,
it was common near Navua, Viti Levu, but is now found only in the more inaccessible swampy valley forests. The locations on Viti Levu, specifically in the Rewa River Delta, where M. vitiense has been historically common, coincide with areas that have recently experienced increased human population growth.
Metroxylon vitiense, On Viti Levu Island (Fiji) it is very abundant on lowland clay soil, and occurs occasionally in dryland forest. In one of the major wetland sites, the Vunimoli wetlands, there are almost pure stands on the wet gley soils on the colluvium and alluvium in the valleys upstream of the coastal plain. This is the only extensive wetland forest (262 ha) in Fiji and includes most of the Metroxylon vitiense population. On wet clay soils, Metroxylon vitiense forms a distinctive vegetation type. It also occurs on adjacent hillsides in association with a variety of trees. (proseanet.org)
Description
Metroxylon vitiense will grow between 5 m to 15 m (16 ft to 50 ft) tall and its trunk will grow to a diameter of 36 cm to 50 cm (14 in to 20 in). The leaf base and petiole are covered with rows of pointy spines. It takes approximately 20 years of growth before the palm begins to bear fruit. Its fruit can vary in color and shape, even within the same stand of trees, similar to other species of Metroxylon. The fruit is round but not always spherical; it can be elliptical or ovular in shape. The fruit has scales, similar to a pineapple, but whose color varies from green to golden yellow to dark brown to grey. Like other species of species of Metroxylon, M. vitiense propagates by seed, which germinates from its fruit.
Metroxylon vitiense; Solitary, hapaxanthic (monocarpic); stem 5-10 (-15) m tall, up to 50 cm in diameter; leaves up to 5 m long, with brown spines, leaflets in one plane, petiole short (long in seedling leaves); inflorescence suprafoliar, first-order branches erecto-patent, 2-2.5 m long, second-order branches pendulous, 20 cm long, each with 8-9 rachillae (third-order branches); fruit conical, 7 cm long, 5 cm wide, with 27-28 rows of yellow-brown scales. (proseanet.org) Editing by edric.
Culture
Fast growing, approx. 20 year lifespan. Cold Hardiness Zone: 10b
Comments and Curiosities
read more
This is a monocarpic genus.
Conservation: Metroxylon vitiense is rare and endangered.
The origin of Metroxylon is disputed: Moluccan, Moluccan and New Guinean, or Melanesian. It only occurs in South-East Asia and several island groups of Micronesia and Melanesia. The distribution areas of the seven species in this genus within this area are neighbouring but hardly overlap. Metroxylon sagu is the most widespread and naturalized throughout South-East Asia. The other four occur from the Federated States of Micronesia and the Bismarck Archipelago north of New Guinea to Western Samoa far to the east of it.; - Metroxylon amicarum is found in the Federated States of Micronesia (native in Pohnpei and Truk, probably planted in Nukuoro, and in Kusaie), and cultivated in the Philippines and in Guam.; - Metroxylon salomonense grows in Papua New Guinea (north-eastern New Guinea, Bismarck Archipelago, Bougainville Island), throughout the Solomon Islands (e.g. Guadalcanal, Santa Cruz Islands), and in Vanuatu (probably imported).; - Metroxylon warburgii is found in Vanuatu (indigenous), in West Samoa, and in the Fijian depency Rotuma, while its occurrence on Tikopia in Solomon Islands is uncertain.; - Metroxylon vitiense only occurs in Fiji (e.g. on Viti Levu, Vanua Levu, and Ovalau). (proseanet.org)
Uses: Leaves used for thatch. The palm thrives near rivers and in marshy areas and its buoyant fruit will often land in water and float until they find suitable places to grow. Remains of partially eaten M. vitiense fruit indicate that bats and the Masked Shining Parrot also act as dispersal vectors. Growth in Fiji's tourism industry has resulted in increased use of Fiji Sago Palm leaves for thatching roofs, especially by hotels, because roofing material made from its leaves can withstand Fiji's tropical climate for about 10 years. Prior to its listing as threatened, Metroxylon vitiense was considered to be a source of superior thatch and edible heart of palm for a few communities in Fiji although its historic use as a famine food is questionable. Metroxylon vitiense is harvested as a source of food for heart of palm and sago. Fiji Islanders prefer the hearts of M. vitiense for their "sweet, crispy and delicate flavour" and residents of some Fijian communities use them as the main ingredient in curries. Unsustainable harvesting of Metroxylon vitiense without replanting has resulted in a reduction of almost 50% in the size and distribution of the surviving species population. Rats also feed on young shoots, killing potential new growth. Bactris gasipaes, also known as the Peach Palm, is being considered and tested as a replacement crop for harvesting palm hearts, also having the added benefit of producing a drupe (or palm peach) with edible pulp surrounding its single seed. In Fiji, starch from the trunk is only occasionally extracted; leaves used to be, and indeed still are, applied in thatching.
Endemic to the islands of Viti Levu (hence its specific name vitiense, "of Viti"), Ovalau, and Vanua Levu in Fiji. There is only one confirmed occurrence of M. vitiense on Vanua Levu, just outside of Savusavu. Despite it being considered a threatened species by the IUCN, as of February 2013, M. vitiense was still unprotected by Fijian regulations and international legislation.
The most widespread name for Metroxylon vitiense in Fiji is Soga and there is no relationship whatsoever with the similar English word sago which is derived from the Malay-Indonesian sagu. (naturefiji.org)
Soga is a robust, single-trunked monocarpic palm with a large trunk growing to about 15m tall. It is normally found in dense stands on alluvial poorlydrained plains landward of coastal swamps, although there are also some inland populations adjacent to major rivers. All populations are below 30 m asl, with the exception of that at Nabukelevu which is situated above the gorge at over 100m asl. Monocarpic palms differ from most palms in the manner in which they produce fruit. None are produced during the normal lifespan of the palm, only when it is 15-20 years old does it produce a large flowering structure above its crown on which the fruit develop. As the fruit mature, all the leaves die, the fruit drop and then the adult palm dies. The fruit are large, typically 9 cm in length and float, so they are readily dispersed by water but flying foxes (Pteropus spp.) and large parrots (Prosopeia personata) are also dispersal agents. Rats (Rattus spp.) predate the fruit especially when germinating. The short life span and reproductive method of Soga renders even large populations vulnerable to sudden and dramatic disturbance. Removal of the normal closed canopy can allow weed and creeper competition to prevent germinating and young palms establishing themselves. Drainage dramatically increases the ability of invasive weeds and creepers to outcompete young Soga palms. (naturefiji.org)
The Soga is endemic to Viti Levu and Ovalau, a landbridge island1. It has always been a species with a very restricted world distribution – a 60 kmcoastline and its hinterland in south east Viti Levu. Presumably its range extended to include Ovalau in the last ice age when sea levels were lower, but leaving Ovalau as a relic population today. Soga was once widespread throughout the Navua and Rewa River Deltas but today only 12 isolated populations survive mainly in pockets on the coastal plains, but with three significant inland populations along the Navua River, refer Figure 1. Only one or two small, doubtfully native, Soga stands survive in the Rewa Delta today but Southern (1986) believed they covered the whole of the Delta before human habitation about 4000 BP, based on an analysis of pollen from swamp cores. The Navua delta population was described in 1862 by Berthold Seemann during his work in Fiji between 1860-1862: ". . . fine groves, several miles in extent were seen by us on various branches and deltas of the Navua River." Today, only a few scattered trees remain east of the Toquru river. On Ovalau, a single small population is reported to survive and is presumed a native stand based on the former distribution of Soga throughout the Rewa Delta and Ovalau being a land-bridge island connected to Viti Levu during the last ice age. (naturefiji.org)
External Links
References
Special thanks to Geoff Stein, (Palmbob) for his hundreds of photos.
Special thanks to Palmweb.org, Dr. John Dransfield, Dr. Bill Baker & team, for their volumes of information and photos.
Glossary of Palm Terms; Based on the glossary in Dransfield, J., N.W. Uhl, C.B. Asmussen-Lange, W.J. Baker, M.M. Harley & C.E. Lewis. 2008. Genera Palmarum - Evolution and Classification of the Palms. Royal Botanic Gardens, Kew. All images copyright of the artists and photographers (see images for credits).

Many Special Thanks to Ed Vaile for his long hours of tireless editing and numerous contributions.