Metroxylon sagu
From Palmpedia - Palm Grower's Guide
Metroxylon (meht-ROKS-ih-lohn)
sagu (SAH-goo)

Papua, Indonesia. Photo by Dr. William J. Baker, Royal Botanic Gardens, Kew/Palmweb.
Scientific Classification
Genus:
Metroxylon (meht-ROKS-ih-lohn)
Species:

sagu (SAH-goo)
Synonyms
None set.
Native Continent
Oceania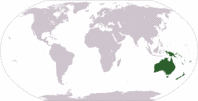 Morphology
Habit:
Clustering
Leaf type:
Pinnate
Culture
Survivability index
Common names
None.
Habitat and Distribution
Borneo, Java, Malaya, Maluku, New Guinea, Solomon Is., Sumatera,
and Thailand.
Description
Robust to massive, solitary or clustered, armed or unarmed, hapaxanthic or pleonanthic (monocarpic), polygamous tree palms. Stem erect, cylindrical, up to 20 m tall, usually partly obscured by remaining leaf bases, bearing circular leaf scars on the nodes, the internodes sometimes having usually spine-like adventitious roots; cortex hard, pith soft and rich in starch. Leaves large, pinnately compound, erect, spreading or sometimes horizontal, marcescent or sometimes neatly abscising; sheath clasping the stem, splitting opposite the petiole, covered with caducous indumentum, smooth or having semicircular transverse ridges bearing series of more or less conspicuous spines; petiole well developed, largest in tillers, armed or unarmed like the sheath, rounded abaxially, deeply grooved adaxially in the proximal part; rachis like the petiole but angled adaxially; leaflets numerous, single-fold, linear, acuminate, straight to drooping, arranged regularly or in clusters, usually armed with inconspicuous short spines along the margin and main vein, green and shiny, slightly paler beneath. Inflorescence a panicle, branched to 2 or 3 orders, interfoliar (axillary) in pleonanthic species, in hapaxanthic species suprafoliar (terminal) and aggregated into a compound, multibracteate inflorescence with branches equivalent to axillary inflorescences, each subtended by a reduced leaf or bract and sometimes emerging through a split in its mid-line; peduncle very short; rachis much longer than peduncle; bracts armed or unarmed; rachillae catkin-like, robust, cylindrical, with a short stalk-like portion and a dense spiral of imbricate, membranous bracts, each enclosing a pair of flowers (dyad), one male and one bisexual; male flowers open before the somewhat flatter bisexual ones; calyx 3-lobed, corolla twice the length of the calyx, 3-lobed; stamens 6, filaments united at base, forming a tube around the ovary in bisexual flowers; pollen grains elliptical, dicolpate; in bisexual flowers pistil tricarpellate, triovulate, style conical with 3 stigmatic angles. Fruit drupe-like, subglobose, usually large and containing 1 seed; exocarp covered in neat vertical rows of shiny yellowish to brown, reflexed, imbricate, rhomboidal scales; mesocarp rather thick, corky or spongy; endocarp not differentiated. Seed globose, deeply invaginated apically, sarcotesta thin to thick fleshy; endosperm homogeneous, hard, bony; germination adjacent-ligular, eophyll bifid or pinnate.; - Metroxylon amicarum. Solitary, pleonanthic; stem 6-8 (-20) m tall, 30-40 cm in diameter, brown-corky, pith fibrous, upper part often with stubs of old inflorescences; leaves 5-6 m long, spiny, about 85 pinnae on each side of the strong woody rachis, petiole 25 cm long, sheath 90 cm long and closed in its lower 30 cm, median pinnae 110 cm 10 cm; inflorescence interfoliar, axillary, up to 125 cm long with about 12 primary (first-order) branches, the lower ones each with 6 rachillae 10-14 cm long (rachillae here second-order branches); fruit 7-11 (-13) cm long, 8-9.5 (-12) cm wide, covered with 24-28 rows of brown-red scales, bearing a prominent tubercle at apex. (proseanet.org) Editing by edric.
read more
A stem grows 7–25 m tall before it ends in an inflorescence. Before flowering, a stem bears about 20 pinnate leaves up to 10 m long. Each leaf has about 150-180 leaflets up to 175 cm long. The inflorescence, 3-7.5 m tall and wide, consists of the continuation of the stem and 15-30 upwardly-curving (first-order) branches spirally arranged on it. Each first-order branch has 15-25 rigid, distichously arranged second-order branches; each second-order branch has 10-12 rigid, distichously arranged third-order branches. Flower pairs are spirally arranged on the third-order branches, each pair consisting of one male and one hermaphrodite flower. The fruit is drupe-like, about 5 cm in diameter, covered in scales which turn from bright green to straw-coloured upon ripening.
(M. sagu) is a pinnate-leaved palm occurring in the hot humid tropics of South-East Asia and Oceania. The scientific name is derived from metra, meaning pith or parenchyma, and xylon, meaning xylem. In some varieties, after the leaf dies, the sheath may adhere to the bole, the part of the trunk below the crown, while in other varieties, the sheath drops. Without leaf sheaths, boles have a diameter of 35-60 cm and reach a length of 6-16 m. The bole stores starch in its central parenchyma, at 10-25% of its fresh weight of 1-2 t. Healthy palms under good conditions carry approximately 24 leaves or fronds. The higher the number of fronds the crown carries, the larger the diameter of the trunk. Each month, one new frond appears out of the growing point, and the oldest one dies. Including the leaf sheath, each fully grown frond is 5-8 m long and carries 100-190 leaflets. Some leaflets may reach a length of 150 cm and a width of up to 10 cm. The palm is soboliferous; it produces tillers or suckers (Fig. 1a). Once planted, aregular succession of suckers is produced from the lowest part of the trunk, forming a cluster in various stages of development. Occasionally, suckers may be formed higher up on the bole. The palm is also hapaxanthic (monocarpic): each bole heralds the end of its life cycle by developing a huge branched terminal inflorescence, with a large number of fruits. The starch stored in the bole is meant for the production of flowers and fruits. After the formation of fruits, the trunk decays, and one or more of the suckers from the cluster takes over. With a relatively short seed-to-seed life of 12 years. Only under prolonged flooding does the palm form pneumatophores, roots functioning as respiratory organs, on top of the soil. Many varieties of the palm are covered by spines, on the rachis, on the leaf sheaths and some even on leaflets and on bracts in the inflorescence. Unarmed varieties are also found, however. (Michiel Flach)
Culture
Cold Hardiness Zone: 11
Comments and Curiosities
Of the Metroxylon genus only Metroxylon sagu, are both hapaxanthic (monocarpic) and soboliferous (clustering).
read more
The origin of Metroxylon is disputed: Moluccan, Moluccan and New Guinean, or Melanesian. It only occurs in South-East Asia and several island groups of Micronesia and Melanesia. The distribution areas of the seven species in this genus within this area are neighbouring but hardly overlap. Metroxylon sagu is the most widespread and naturalized throughout South-East Asia. The other four occur from the Federated States of Micronesia and the Bismarck Archipelago north of New Guinea to Western Samoa far to the east of it.; - Metroxylon amicarum is found in the Federated States of Micronesia (native in Pohnpei and Truk, probably planted in Nukuoro, and in Kusaie), and cultivated in the Philippines and in Guam.; - Metroxylon salomonense grows in Papua New Guinea (north-eastern New Guinea, Bismarck Archipelago, Bougainville Island), throughout the Solomon Islands (e.g. Guadalcanal, Santa Cruz Islands), and in Vanuatu (probably imported).; - Metroxylon warburgii is found in Vanuatu (indigenous), in West Samoa, and in the Fijian depency Rotuma, while its occurrence on Tikopia in Solomon Islands is uncertain.; - Metroxylon vitiense only occurs in Fiji (e.g. on Viti Levu, Vanua Levu, and Ovalau). (proseanet.org)
The tree is of commercial importance as the main source of sago, a starch obtained from the trunk by washing the starch kernels out of the pulverized pith with water. This starch is used in cooking for puddings, noodles, breads, and as a thickener. In the Sepik River region of New Guinea, pancakes made from sago are a staple food, often served with fresh fish. Its leaflets are also used as thatching which can remain intact for up to five years. The dried petioles (called gaba-gaba in Indonesian) are used to make walls and ceilings; they are very light, and therefore also used in the construction of rafts. The sago palm reproduces by fruiting. Each stem (trunk) in a sago palm clump flowers and fruits at the end of its life, but the sago palm as an individual organism lives on through its suckers (shoots that are continuously branching off a stem at or below ground level). To harvest the starch in the stem, it is felled shortly before or early during this final flowering stage when starch content is highest. Sago palm is propagated by man by collecting (cutting) and replanting young suckers rather than by seed. Recent research indicates that the sago palm was an important food source for the ancient people of coastal China, in the period prior to the cultivation of rice.
The fruit of palm trees from which the sago is produced is not allowed to ripen fully. The full ripening completes the life cycle of the tree and exhausts the starch centre to produce the seeds. It leaves a hollow shell and causes the tree to die. The palms are cut down when they are about 15 years old, just before they are ready to flower. The stems, which grow to 30 feet (9 metres high), are split out. The starch pith is taken from the stems and ground to powder. A single palm yields about 800 pounds (360 kilograms) of starch. The powder is kneaded in water over a cloth or sieve. It passes into a trough where it settles. After a few washings, the flour is ready to be used in cooking.
A medium-sized palm, reaching 7-25 m in height and a trunk diameter of 30-60 cm. It produces basal suckers. The roots are spongy and not extending to a great depth. The palm may have 18-24 leaves, usually 5-7 m long but sometimes up to twice as long. USES: The starch stored in the trunk is used as a staple food and can also be converted to alcohol for use as a bio-fuel. Usually, wet starch is boiled, fried or roasted, alone or mixed with other foodstuffs. It is also be used industrially in the manufacture of cakes, noodles, kerupuk and custards powders. Non-food uses include sizing pastes for paper and textiles. Young trunks, pith and pith refuse can be fed to animals. The 'bark' can be used as timber or fuel. Walls, ceilings, fences, cordage, mats and baskets can be made from the leaves. The growing point of the palm (palm cabbage) may be eaten raw or cooked. Certain larvae and mushroom living off the plant are edible. KILLING T.: May not tolerate 1 C for prolonged periods. GROWING PERIOD: Perennial. Each trunk produces a vast terminal inflorescence when 7-15 years old and then dies after fruiting. COMMON NAMES: Sago palm, Smooth sago palm, Pokok, Pohon, Sagu, Rumbia, Sagoutier, Pohon rumbia, Kirai, Ambulung, Kersula, Lapia, Sak-sak, Lumbia, Thagu-bin, Sa kuu, Sa khu. FURTHER INF.: Scientific synonyms: M. rumphii, M. squarrosum. Sago palm occurs wild in Papua New Guinea, Malaysia and the Philippines. The latitudinal range is 13oN to 23oS and it can be found at elevations between sea level and 700 m or even up to 1200 m. It thrives in lowland swampy coastal plains, flood plains of rivers and higher up on flat valley floors, with a relative air humidity about 90% and an irradiance of about 9 MJ/m2. Occasional flooding, even with saline water is tolerated. Mentioned as a useful agro-forestry species. A single palm may yield about 180-350 kg sago. In the swamp groves, there are about 60-140 palms/ha. Top annual yield of dry starch from the first crop of palms of short life cycle in Malaysia is about 25 t/ha, equivalent to 138 trunks of 180 kg each. Yields of the subsequent ratoon crop may be about 15/t/ha, from 85 trunks of 180 kg each. Production from uncultivated palms may be 20-400 kg per plant. (ecocrop.fao.org)
"This is the TRUE Sago Palm (actually a palm, unlike the common 'Sago Palm', or Cycas revoluta). THis is an important plant economically throughout tropical Asia as a source of edible starch (called Sagu). M sagu is a suckering species and can form a 'forest' of huge palms in no time. New leaves are brilliant red and plants can grow up to 60'- truly an impressive sight. Also has one of the largest flowers in the plant world- up to 25' tall right from the top of the palm (signaling its impending demise) and has fruits the size of baseballs- very hard, too. Very tropical in its needs, with zone 11 a bit of a marginal zone for it." (Geoff Stein)
An extremely fast growing, large, clustering palm that sports a robust trunk below a crown of gracefully ascending, deep green, pinnate leaves. Each trunk in a cluster flowers only once and dies after producing thousands of golfball-sized, scaly fruits, only to be quickly replaced by a new sucker. Thought to have originated in New Guinea, M. sagu today is widely grown all over South East Asia due to the starchy pith of its trunk, a staple for some indigenous societies, the long lasting thatch that the leaves provide, and other useful material. (RPS.com)
External Links
References
Phonetic spelling of Latin names by edric.
Special thanks to Geoff Stein, (Palmbob) for his hundreds of photos.
Special thanks to Palmweb.org, Dr. John Dransfield, Dr. Bill Baker & team, for their volumes of information and photos.
Glossary of Palm Terms; Based on the glossary in Dransfield, J., N.W. Uhl, C.B. Asmussen-Lange, W.J. Baker, M.M. Harley & C.E. Lewis. 2008. Genera Palmarum - Evolution and Classification of the Palms. Royal Botanic Gardens, Kew. All images copyright of the artists and photographers (see images for credits).

Many Special Thanks to Ed Vaile for his long hours of tireless editing and numerous contributions.