Licuala sp. 'Timika Bronze'
From Palmpedia - Palm Grower's Guide
Licuala (lik-oo-AH-lah)
sp. 'Timika Bronze'

Rare Palm Seeds.com
Scientific Classification
Genus:
Licuala (lik-oo-AH-lah)
Species:

sp. 'Timika Bronze'
Synonyms
None set.
Native Continent
Oceania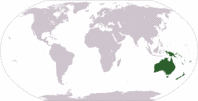 Morphology
Culture
Survivability index
Common names
None.
Habitat and Distribution
Western New Guinea. Lowland rainforest, north of Timika on the southwestern coast.
Description
Culture
Tropical Moist Forest, Cold Hardiness Zone: 10b
Comments and Curiosities
A beautiful and unusual, new Licuala from lowland rainforest north of Timika on the southwestern coast of Western New Guinea (formerly Irian Jaya), that sports a slender trunk and leaves with few segments on long, bronzy stalks. The trunk is covered in the fibrous sheath of the leafbases, and the leaves, in particular their undersides, show a stunning bronze cast. The palm carries many leaves that stay alive all the way down the stem even in older, taller plants, giving it a very unique appearance.
External Links
References
Phonetic spelling of Latin names by edric.
Special thanks to Geoff Stein, (Palmbob) for his hundreds of photos.
Special thanks to Palmweb.org, Dr. John Dransfield, Dr. Bill Baker & team, for their volumes of information and photos.
Glossary of Palm Terms; Based on the glossary in Dransfield, J., N.W. Uhl, C.B. Asmussen-Lange, W.J. Baker, M.M. Harley & C.E. Lewis. 2008. Genera Palmarum - Evolution and Classification of the Palms. Royal Botanic Gardens, Kew. All images copyright of the artists and photographers (see images for credits).

Many Special Thanks to Ed Vaile for his long hours of tireless editing and numerous contributions.