Licuala ramsayi
From Palmpedia - Palm Grower's Guide
Licuala (lik-oo-AH-lah)
ramsayi (rahmz'-eh)

Cape Tribulation Queensland, Australia. Photo by Ron.
Scientific Classification
Genus:
Licuala (lik-oo-AH-lah)
Species:

ramsayi (rahmz'-eh)
Synonyms
None set.
Native Continent
Oceania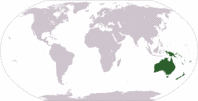 Morphology
Culture
Survivability index
Common names
Chakoro
Habitat and Distribution
Occurs in NEQ from about Cooktown, south to about Ingham. Altitudinal range from
near sea level to 1100 m. Occurs in rainforest, swamp forest, mangroves, littoral forest and in diverse riparian and riverine habitats, on various soil types.
The main areas where Licuala ramsayi naturally occurs is near Mission Beach (Licuala Rainforest), Tully, Daintree River and Cape Tribulation. However, pockets of Chakoro can also be found in the Bloomfield River area. This palm can grow to breathtaking heights and in the Licuala Rainforest, it appears as the main afforestation. In Australia, the latitudinal range of the tree is 11-19°S, it probably extend north to about 5°S. It occur at elevations between sea level and 450 m. It is mostly found within 20 km of the coast.
Description
A medium sized, single stemmed palm, usually up to 15 m in height, though it can reach 25 m. The stem is normally quite straight and slender and up to 20 cm in diameter. The crown consists of large fan-shaped leaves. The leaves up to 2 meters long, with feather-like fronds give this palm a gracefull appearance. The leaflets are bright green above with a silvery underside. A handsome flower skirt has cream flowers, followed by red fruit. COMMON NAMES Wedge leaflet fan palm, Hessian hair fan palm.
Detailed Scientific Description
Solitary or rarely clustered palm tree. Stem up to 10 m tall and 7-10 cm in Diameter Breast High. Crown with 9-12 erect to semi-drooping leaves; leaf sheath up to 100 cm long, and disintegrating into a light to dark brown fibrous mesh that eventually detaches from the leaf. Petiole up to 2 m long, basal part 1.2-1.8 cm in diam., abaxial side from slightly ridged or furrowed basally to flat below the blade, armed with up to 5 mm long, mixed long and short, straight to recurved spines; lamina broadly elliptic to almost circular, glabrous, chartaceous, maximum diam. 1.2-1.8 m in diam., divided into 17-23 segments; the distal 1-3 segments inserted on a rather thick and conspicuous extension of costa, mid segment 7-23 costate, 60-80 cm long, 20-40 cm wide, apex truncate, lateral segments 2-5 costate, 50-75 cm long, 8-18 cm wide, apex truncate, basal segments 2-5 costate, 50-65 cm long, 5-10 cm wide, apex obliquely truncate; indentations mixed long and short, those leading to the adaxial folds 1-5 cm long, those leading to the abaxial folds about 0.5 cm long. Flowers; Inflorescences usually several on one palm, 2.0-3.5 m long, arcuate, prophyll 20-30 cm long, green at the base to brown and chartaceous distally, length of peduncle plus first subtending bract 50-70 cm, rachis with 8-10 nodes, subtending bracts tubular, up to 30 cm long, decreasing in size towards the apex, glabrous or with scattered ramenta, first order branches to 25-55 cm long, decreasing in length towards the apex, the proximal ones bearing 15-50, glabrous to sparsely pubescent, 15-30 cm long rachillae. Flowers solitary, in pairs or in groups of 3 or 4, subsessile to shortly pedicellate, subtending bract deltoid to strapshaped, up to 1 mm long, early deciduous; calyx 2.5-3.5 mm long, urn-shaped to cupulate, with three rounded to obtuse lobes, glabrous, cream with brown edges, receptacle and calyx fused for 0.3-0.5 mm; corolla cream colored, 3.3-3.5 mm long, glabrous, turning brown to black after anthesis; stamens 2.0-2.3 mm long, fused to corolla for 1.5-1.7 mm, staminal ring cream-colored at anthesis, truncate, filaments subulate, ca. 0.2 mm long, anthers 0.5-0.6 mm long, rounded to elliptic; ovary ca. 1 mm long, glabrous, turbinate, rounded to truncate apically, style 1.2-1.3 mm long, filiform. Fruit; Fruit ovoid, 1-1.5 cm long, 0.8-1 cm in diam., orange to red at maturity. Seed globose, 0.6-0.9 cm in diam.; raphe prominent. (Barfod, A.S. & Dowe, J.L. (2005) Palms 49 (1): 20-21.) Editing by edric.
Distinguished by the leaf segments united into irregular multiples; the leaf sheath which disintegrates into a fibrous mesh that eventually detaches from the leaf; the petiole which is conspicuously armed with spines to 5 mm long; and the flowers which are in clusters of 3-4 or solitary. (Barfod, A.S. & Dowe, J.L. (2005) Palms 49 (1): 20-21.)
Culture
The Australian Fan Palm likes a rainforest situation. A shady position and plenty of moisture is all what is needed to grow Licuala ramsayi successfully. This is one of the most cold tolerant of the Licuala's, (apart from L. spinosa), but is still a tropical/sub-tropical plant, and definitely not frost hardy. As a youngster it prefers quite heavy shade, but its an emergent plant so adults are sun-hardy. Unfortunately, it is a very slow grower, but its still a highly desirable plant for a warm shady nook. Tropical Moist Forest, Cold Hardiness Zone: 10 a
Comments and Curiosities
There are two subspecies;
read more
1.) Licuala ramsayi var. ramsayi.
2.) Licuala ramsayi var. tuckeri, Distribution: Queensland, Australia. Distributed in northern Queensland, from Moa Island in Torres Strait, throughout coastal or near-coastal Cape York Peninsula, to about north of Cooktown, with population centers in Lockerbie Scrub, Jardine R., Nesbit R., Wenlock R., Iron Range and Silver Plains area. Description: Solitary palm; leaf sheath remains attached to the leaf; petiole unarmed or with few, small spines at the base; flowers mostly solitary; floral buds bullet shaped at anthesis; calyx sclereified and truncate basally; floral buds bullet shaped before anthesis; anthers 0.3-0.4 mm long, persistent and conspicuous long after anthesis in between corolla lobes; corolla apex turning black after anthesis. Licuala ramsayi var. tuckeri has become common in cultivation and is reputedly more amenable to cultivation than L. ramsayi var. ramsayi.
The new variety is also reported to flower and fruit throughout the year, unlike L. ramsayi var. ramsayi in which flowering and fruiting is sporadic and may not occur every year. Apart from Gorman (1996), who provided a demographic study of the population at Mission Beach, there has been no ecological research of the species. Gorman's study suggested that L. ramsayi [in the Mission Beach population] did not conform to a classic "reverse-J" population curve expected of palms and that regeneration patterns may be linked to cyclonic events and periodic major disturbance. Dowe (1992b) provided some preliminary observations on leaf morphology, structure and growth patterns. Research on aspects such as phenology, pollination and population dynamics has yet to be carried out on this species. Etymology: Named for horticulturist, botanical illustrator and taxonomist (Pandanaceae) Robert James Thomas (1955-1992), landscape designer for Townsville Botanic Gardens, 1982-1992, and designer of The Palmetum, Townsville, a botanic garden devoted to palms. Tucker collected palms and Pandanus throughout Cape York Peninsula and was the author of The Palms of Subequatorial Queensland (Tucker 1988) and taxonomic works on the Australian Pandanaceae. (Dowe and Barfod. 2005)/Palmweb.
This is a very handsome palm which grows up to 25 metres in its natural habitat, but by far not that tall in a garden situation, where 3 to 4 metres would be a mature palm. In the Tully area of North Queensland Licuala ramsayi is called by its Aboriginal name "Chakoro". (gardenboutique.com)
A truly spectacular palm, native to the lush rainforests of northeastern Queensland. It boasts a spreading crown of huge, circular leaves, to 2 m (7 ft) across, with wide, wedge-shaped segments. One of the largest members of the genus Licuala, its slender trunk can reach to 15 m (50 ft) tall. In the sheltered tropical or subtropical garden, it will develop at a steady pace, and young plants are well suited for indoor decoration. (RPS.com)
External Links
References
Special thanks to Geoff Stein, (Palmbob) for his hundreds of photos, edric.
Special thanks to Palmweb.org, Dr. John Dransfield, Dr. Bill Baker & team, for their volumes of information and photos, edric.
Glossary of Palm Terms; Based on the glossary in Dransfield, J., N.W. Uhl, C.B. Asmussen-Lange, W.J. Baker, M.M. Harley & C.E. Lewis. 2008. Genera Palmarum - Evolution and Classification of the Palms. Royal Botanic Gardens, Kew. All images copyright of the artists and photographers (see images for credits).
2005. The enigmatic Australian Fan-Palm Licuala ramsayi.
Barfod, A.S. & Dowe, J.L. (2005) Palms 49 (1): 20-21.

Many Special Thanks to Ed Vaile for his long hours of tireless editing and numerous contributions.