Laccospadix australasica
From Palmpedia - Palm Grower's Guide
Laccospadix (lak-koh-SPAH-dix)
australasica (aws-trah-lah-ZIH-kah)

Gold Coast Hinterland, Queensland. Photo by Daryl O'Connor
Scientific Classification
Genus:
Laccospadix (lak-koh-SPAH-dix)
Species:

australasica (aws-trah-lah-ZIH-kah)
Synonyms
None set.
Native Continent
Oceania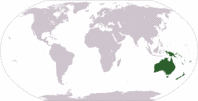 Morphology
Habit:
Solitary & clustering.
Leaf type:
Pinnate
Culture
Survivability index
Common names
Atherton Palm
Habitat and Distribution
Laccospadix australasica
is native to Australia. Found in
shaded humid Rain Forest.
Description
Laccospadix australasica is a moderate size palm that can be clustering or solitary, and can exhibit a vibrant red new leaf, or the typical green. It slightly resembles a Howea, and has even been rumored to eventually be combined into this genus.
Atherton Palm is an attractive palm that can be seen as a solitary palm or a clumping palm with multiple trunks. It can grow to about seven metres in height with trunk up to 10 cm in diameter in solitary specimens, but clumping plants are lower with smaller trunks. The fronds are pinnate , and new fronds are often reddish brown in colour. It produces long flower spikes that hang downwards from the crown of fronds. The fruit are small red and oval, growing along the length of the spike after flowering. Atherton Palm makes an ornamental garden palm in a shady position. Editing by edric.
Culture
It's cultural needs are also similar to Howeas, so are a relatively easy grow for the milder coastal locations of the subtropics and some temperate climates. The plant is quite cold tolerant and one report suggests will withstand short periods of sub zero temperatures as low as -4 degrees celcius. Cold Hardiness Zone: 9b
Comments and Curiosities
This is a monotypic genus.
Although not a rare palm in its native habitat--montane rainforests in northeastern Queensland, Australia between 800 and 1600 m (2600 and 5200 ft.)-- the Atherton Palm is rarely seen in cultivation outside Australia. This is particularly surprising as it adapts easily to a range of climates and as it is a highly attractive, smallish palm that will find room in just about any garden. It also adapts well to cultivation in the house. It has a slender, solitary or sometimes clustering stem that carries a small, upright crown of finely pinnate, dark green leaves. The flower stalk is unbranched and carries many small, bright red fruits. Laccospadix does not look unlike a small Howea, and indeed the two are closely related. (RPS.com)
This palm grows to approx. 8 m but normally only 2-4 m in the understorey of rainforest and comes from the Mt Lewis and Atherton Tableland region west of Cairns. Laccospadix australasicus is comparatively slow growing and increasingly rare.It occurs as a single trunked form or as a multiple trunked form and both variations can be found growing together from about 800 m altitude. Collecting seed and plantlets of this species is illegal.
External Links
References
Phonetic spelling of Latin names by edric.
Special thanks to Geoff Stein, (Palmbob) for his hundreds of photos.
Special thanks to Palmweb.org, Dr. John Dransfield, Dr. Bill Baker & team, for their volumes of information and photos.
Glossary of Palm Terms; Based on the glossary in Dransfield, J., N.W. Uhl, C.B. Asmussen-Lange, W.J. Baker, M.M. Harley & C.E. Lewis. 2008. Genera Palmarum - Evolution and Classification of the Palms. Royal Botanic Gardens, Kew. All images copyright of the artists and photographers (see images for credits).

Many Special Thanks to Ed Vaile for his long hours of tireless editing and numerous contributions.