Hydriastele microcarpa
From Palmpedia - Palm Grower's Guide
Hydriastele (high-dree-Ah-STEL-eh)
microcarpa (migh-kroh-KAHRP-ah)

Hawaii.
Scientific Classification
Genus:
Hydriastele (high-dree-Ah-STEL-eh)
Species:

microcarpa (migh-kroh-KAHRP-ah)
Synonyms
Old name Gronophyllum microcarpum.
Native Continent
Oceania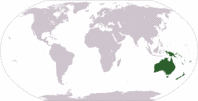 Morphology
Habit:
Solitary & clustering.
Leaf type:
Pinnate
Culture
Survivability index
Common names
None.
Habitat and Distribution
Fiji Islands, known only from the type locality.
Endemic to the Moluccan Islands of Maluku, and Ceram in Eastern Indonesia.
Description
Clustering palm, often solitary, with long pinnate leaves to about 8 meters tall. Mature fruit is red.
Tall, slender palm to 15 m or more in height; stem 28 cm in diameter, leaves 17 in a crown, arcuate, sheath 76 cm long, petiole 30 cm long, blade 220 cm long; sheath (near top), petiole, and rachis minutely brown-dotted and thinly white-woolly, more thickly so above than below; pinnae erect, not drooping at the tips, 52 on each side of the rachis, to ll0 cm long, 3.5 cm wide, bifid to briefly praemorse at the tips, Iower surface with up to 4 small, pale ramenta scattered along the lower l5 cm of the midrib. Inflorescence about 50 cm long, with about 28 branches, the lower few again branched into several rachillae, incomplete peduncular bracts lacking; rachillae to about 42.5 cm long, about 2.5 mm wide, bearing about 280 triads. Staminate flowers unknown. Pistillate flowers about 2 mm high and broad. Fruit whitish when nearly mature, l0 X 3 mm, cylindrical and slightly curved; endosperm homogeneous. (Frederick B. Essig 1973) Editing by edric.
This species is not completely known yet. Staminate flowers have not been seen, and it is not clear what the color of the mature fruit is. The species is distinctive in its small fruit with very thin pericarp and poorly developed palisade layer. It appears to be most closely related to H. cylindrocarpa. The specific epithet was suggested by Professor Moore, to whose memory this paper is dedicated. H. microcarpa has the thinnest pericarp of all Hydriastele species, with markedly flattened fibrovascular bundles, and a locular epidermis only slightly modified in the direction of a palisade layer. (Frederick B. Essig 1973)
Culture
Requires a moist, sheltered, position in the tropics.
Comments and Curiosities
Old name-Gronophyllum microcarpa.
Uses: used as a betel nut substitute.
In his protologue, Scheffer (1876) refers to material grown at Bogor Botanic Garden from seed collected by Teijsmann in Ceram. Type material has not yet been located in the Bogor herbarium. Two specimens in Florence may represent fragments of the type. The first, annotated "Nel Giard. Bot. di Buitenzorg [in Bogor Botanic Garden] Dr. Scheffer, 1877", is a likely candidate as a type duplicate, but the date does not conform precisely to the publication date of the protologue. The second, annotated "Amboina ad Hutumuri leg. Teijsmann ex. Herb. Bogor.", could be identified as type material, but the locality information does not match Scheffer's protologue. The existence and location of type material cannot be confirmed until a more thorough search has been made at the Bogor herbarium. (W.J. Baker and A.H.B. Loo. 2004)
External Links
References
Phonetic spelling of Latin names by edric.
Special thanks to Geoff Stein, (Palmbob) for his hundreds of photos.
Special thanks to Palmweb.org, Dr. John Dransfield, Dr. Bill Baker & team, for their volumes of information and photos.
Glossary of Palm Terms; Based on the glossary in Dransfield, J., N.W. Uhl, C.B. Asmussen-Lange, W.J. Baker, M.M. Harley & C.E. Lewis. 2008. Genera Palmarum - Evolution and Classification of the Palms. Royal Botanic Gardens, Kew. All images copyright of the artists and photographers (see images for credits).
Baker, W.J. & Loo, A.H.B. 2004. A synopsis of the genus Hydriastele (Arecaceae). Kew Bulletin, Vol. 59, No. 1, pp. 61-68.
Frederick B. Essig, University of South Florida, Tampa Florida.

Many Special Thanks to Ed Vaile for his long hours of tireless editing and numerous contributions.