Hydriastele hombronii
From Palmpedia - Palm Grower's Guide
Hydriastele (high-dree-Ah-STEL-eh)
hombronii (hohm-BRO-nee)

Hilo, Hawaii. Photo by Timothy Brian.
Scientific Classification
Genus:
Hydriastele (high-dree-Ah-STEL-eh)
Species:

hombronii (hohm-BRO-nee)
Synonyms
Old name-Gulubia hombronii
Native Continent
Oceania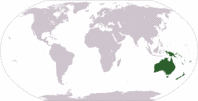 Morphology
Habit:
Clustering
Leaf type:
Pinnate
Culture
Survivability index
Common names
bulntari (Kwara'Je language), bombua (Longu language).
Habitat and Distribution
Widespread in the Solomon Islands. This palm tree is scattered in swamp and cloud forest
on ultrabasic soils, from 100 to 1,500 m. elev.
Description
A tall, solitary palm, to 15-20 m in height; stem l2-15 (-28) cm in diameter: leaves l2-20 in a crown, strongly arcuate with pinnae erect, sheath 50-75 (-90) cm long, petiole IB-20 (-30) cm long, blade 100-140 (-lB0) cm long; petiole and rachis glabrous, slightly glaucous above; pinnae 36-38 (-46) on each side, 45-67 (-75) cm long, 2-3.7 crn wide, with apex briefly notched, lower surface with many small, pale, basifixed ramenta on the lower l0-12 cm of the midrib. Inflorescence 40-55 cm long, simply branched or the I-2 lower branches forked, with 7-9 rachillae; peduncular and rameal bracts lacking; axes white, glabrous to finely brown-dotted; rachillae 36-50 cm long, 2.5-4 cm in diameter, bearing up to l38 triads. Staminate flowers l1 mm long, 4 mm wide, deep rose in bud, becoming rose-pink shading to ivory at the tips when expanded, fragrant, calyx white, stamens 10-12. Pistillate flowers pinkish. Fruit 14-17 X 6-6.5 mm, ripening dull red; seed with homogeneous endosperm. (Frederick B. Essig 1973) Editing by edric.
H.hombronii appears to have somewhat smaller dimensions than H. macrospadix, and both, in turn, are significantly more diminutive than any of the speciesin New Cuinea. The arcuate form of the fronds suggests a relationship with H. longispatha, but the rosy color of the flowers is distinct from the creamwhite of that species, and the pericarp structure is different. (Frederick B. Essig 1973)
Culture
Comments and Curiosities
Conservation: It is threatened by habitat loss.
External Links
References
Phonetic spelling of Latin names by edric.
Special thanks to Geoff Stein, (Palmbob) for his hundreds of photos.
Special thanks to Palmweb.org, Dr. John Dransfield, Dr. Bill Baker & team, for their volumes of information and photos.
Glossary of Palm Terms; Based on the glossary in Dransfield, J., N.W. Uhl, C.B. Asmussen-Lange, W.J. Baker, M.M. Harley & C.E. Lewis. 2008. Genera Palmarum - Evolution and Classification of the Palms. Royal Botanic Gardens, Kew. All images copyright of the artists and photographers (see images for credits).
Frederick B. Essig, University of South Florida, Tampa Florida.

Many Special Thanks to Ed Vaile for his long hours of tireless editing and numerous contributions.