Drymophloeus oliviformis
From Palmpedia - Palm Grower's Guide
Drymophloeus (dry-moh-FLEH-uhs) oliviformis
(oh-lee-VIH-form-miss)

Senderawoi, West Papua, Indonesia. Photo by Dr. William J. Baker, Royal Botanic Gardens, Kew/Palmweb.
Scientific Classification
Genus:
Drymophloeus (dry-moh-FLEH-uhs)
Species:
oliviformis
(oh-lee-VIH-form-miss)
Synonyms
None set.
Native Continent
Oceania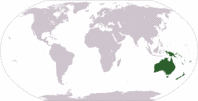 Morphology
Culture
Survivability index
Common names
None.
Habitat and Distribution
Drymophloeus oliviformis
is native to forests of Maluku, and
New Guinea.
Description
It is a small-medium sized palm with a slim solitary trunk and broad wedge shaped leaflets. The flesh of the red mature fruits irritates the skin.
Culture
In cultivation it requires shade and good drainage and needs to be well watered. Requires tropical or warm sub-tropical conditions.
Comments and Curiosities
"Atrractive small, dainty palm with very thin trunk and slightly bulging crwonshaft and fishtail leaflets, from Papau (near New Guinea). This palm is nearly extinct in the wild, but is becoming available in cultivation. Very tropical in its requirements." (Geoff Stein)
This rare, delicate species is native to the Indonesian island of Ambon and has an elegant, slender appearance. Beautiful as an understorey palm for tropical regions, it would probably also do well as a house plant. (RPS.com), edric.
External Links
References
Phonetic spelling of Latin names by edric.
Special thanks to Geoff Stein, (Palmbob) for his hundreds of photos.
Special thanks to Palmweb.org, Dr. John Dransfield, Dr. Bill Baker & team, for their volumes of information and photos.
Glossary of Palm Terms; Based on the glossary in Dransfield, J., N.W. Uhl, C.B. Asmussen-Lange, W.J. Baker, M.M. Harley & C.E. Lewis. 2008. Genera Palmarum - Evolution and Classification of the Palms. Royal Botanic Gardens, Kew. All images copyright of the artists and photographers (see images for credits).

Many Special Thanks to Ed Vaile for his long hours of tireless editing and numerous contributions.