Cyphosperma tanga
From Palmpedia - Palm Grower's Guide
Cyphosperma
(sigh-foh-SPUHR-mah)
tanga (TAHN-gah)

In habitat. Photo-Rare Palm Seeds.com
Scientific Classification
Genus:
Cyphosperma
(sigh-foh-SPUHR-mah)
Species:

tanga (TAHN-gah)
Synonyms
None set.
Native Continent
Oceania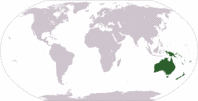 Morphology
Culture
Survivability index
Common names
Taqwa Palm
Habitat and Distribution
Cyphosperma tanga
is endemic to Fiji.
Description
Culture
Although there are of course no experiences with its cultivation, it should be reasonable to assume that it is similarly easy to propagate as its New Caledonian relative C. balansae and would thrive under the same conditions, i.e. in a protected spot under some canopy, in well drained soil but with plenty of water, in a mild tropical or perhaps warm temperate climate that does not experience excessive heat, cold or drought. (RPS.com)
Comments and Curiosities
A jaw-droppingly gorgeous palm with a slender, smooth, chocolate-brown trunk to about 5 m (16 ft.) tall which holds an upright crown of large, undivided leaves to about 3 m (10 ft.) long. The pea-sized fruits mature from green over yellow and orange to bright red. It is native to the understory of very wet, mossy, montane forest on volcanic soils between 600 and 900 m (2000 and 3000 ft.) on the rocky slopes of Mt. Tomanivi, Fiji's highest mountain, located in the northern part of the island of Viti Levu. With only one small population surviving today, it is considered critically endangered. This palm has apparently not been in cultivation anywhere in the world, which makes its status in the wild even more a reason for concern. (RPS.com)
External Links
References
Phonetic spelling of Latin names by edric.
Special thanks to Geoff Stein, (Palmbob) for his hundreds of photos.
Special thanks to Palmweb.org, Dr. John Dransfield, Dr. Bill Baker & team, for their volumes of information and photos.
Glossary of Palm Terms; Based on the glossary in Dransfield, J., N.W. Uhl, C.B. Asmussen-Lange, W.J. Baker, M.M. Harley & C.E. Lewis. 2008. Genera Palmarum - Evolution and Classification of the Palms. Royal Botanic Gardens, Kew. All images copyright of the artists and photographers (see images for credits).

Many Special Thanks to Ed Vaile for his long hours of tireless editing and numerous contributions.