Clinostigma samoense
From Palmpedia - Palm Grower's Guide
Clinostigma (klin-oh-STIG-mah)
samoense (sah-moh-EN-seh)

Nong Nooch Botanical Gardens, Thailand.
Scientific Classification
Genus:
Clinostigma (klin-oh-STIG-mah)
Species:

samoense (sah-moh-EN-seh)
Synonyms
Clinostigma powellianum
Native Continent
Oceania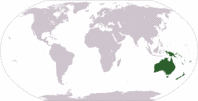 Morphology
Culture
Survivability index
Common names
Samoan Palm.
Habitat and Distribution
Clinostigma samoense is found in cloud forests on the island of Samoa.
Description
Trunk type: Solitary. Hight: To 25 meters, (82'), with a powdery blue to lime green crownshaft, a tall, slender, ringed trunk, the trunk when young appears whitish, but turns a glaucous green with age, and maintains a 'chalky' appearance even when mature, when mature they develope a mass of stilt roots. The leaves are pendulant, giving the crown a wonderful appearance. The immature leaves are bifid, and go pinnate after a year or two in the ground. Leaf detail: Pinnately compound, fine leaflets, heavily drooping, with arching fronds, fronds to 6 meters, (20'). Editing by edric.
Culture
Requirements: Filtered light when young, full sun when mature, consistently moist soil, well drained position. Once established, C. samoense is fast growing palm. The younger palms need either some wind protection, or patience from the grower. Some claim that there is no more beautiful palm species than this. An interesting note on the samoense is that taxonomists are now calling the samoense that we are growing in Hawaii C. species 'Eastern Upolu'. Hardiness, USDA zones 11-up.
Comments and Curiosities
Clinostigma are among the most beautiful feather-leaved palms. This species from cloud forests in Samoa in the southern Pacific has a tall, slender, ringed trunk that is initially white but turns green with age. Its leaves are large and undivided in juvenile plants, but become elegantly spreading and very finely divided in adult specimens. C. samoense is fast growing and best suited to humid, tropical or warm subtropical climates. (RPS.com)
External Links
References
Phonetic spelling of Latin names by edric.
Special thanks to Geoff Stein, (Palmbob) for his hundreds of photos.
Special thanks to Palmweb.org, Dr. John Dransfield, Dr. Bill Baker & team, for their volumes of information and photos.
Glossary of Palm Terms; Based on the glossary in Dransfield, J., N.W. Uhl, C.B. Asmussen-Lange, W.J. Baker, M.M. Harley & C.E. Lewis. 2008. Genera Palmarum - Evolution and Classification of the Palms. Royal Botanic Gardens, Kew. All images copyright of the artists and photographers (see images for credits).

Many Special Thanks to Ed Vaile for his long hours of tireless editing and numerous contributions.