Calyptrocalyx sp. 'kainlas'
From Palmpedia - Palm Grower's Guide
Calyptrocalyx
(kah-lip-troh-KAH-liks)
sp. 'kainlas'
Scientific Classification
Genus:
Calyptrocalyx
(kah-lip-troh-KAH-liks)
Species:

sp. 'kainlas'
Synonyms
None set.
Native Continent
Oceania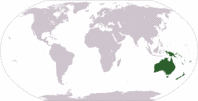 Morphology
Habit:
Solitary
Leaf type:
Bifid
Culture
Survivability index
Common names
None.
Habitat and Distribution
Calyptrocalyx sp. 'kainlas' is found in Irian Jaya, West New Guinea, (Irian Jaya Barat) Province.
Description
Trunk type: Solitary, a very small palm. Leaf detail: Bifid, diametrically opposed pinnae, V-shaped, with even divisions, redish pink new emergent leaf. Requirements: Near full shade, consistently moist soil, this is an understory palm. Special note: This palm is either an undescribed palm, (an sp.) or a cultivar. One of the most amazing Calyptrocalyx, this solitary dwarf palm grows a slender, cane-like trunk only a few feet tall, with a dense crown of arching, bifid or sparsely pinnate, dark green leaves. The unbranched inflorescences are held among the leaves. The emerging leaf is beautifully dark red. Seedlings have a very dark, almost black leaf color. It is rare in cultivation and best suited for a protected spot in the humid tropical garden. Also marvelous in a pot. Editing by edric.
Culture
Comments and Curiosities
External Links
References
Phonetic spelling of Latin names by edric.
Special thanks to Geoff Stein, (Palmbob) for his hundreds of photos, edric.
Special thanks to Palmweb.org, Dr. John Dransfield, Dr. Bill Baker & team, for their volumes of information and photos, edric.
Glossary of Palm Terms; Based on the glossary in Dransfield, J., N.W. Uhl, C.B. Asmussen-Lange, W.J. Baker, M.M. Harley & C.E. Lewis. 2008. Genera Palmarum - Evolution and Classification of the Palms. Royal Botanic Gardens, Kew. All images copyright of the artists and photographers (see images for credits).

Many Special Thanks to Ed Vaile for his long hours of tireless editing and numerous contributions.