Cyphophoenix nucele
From Palmpedia - Palm Grower's Guide
Cyphophoenix (sigh-foh-FEH-niks)
nucele (noo-SEH-leh)

Location: Nouméa, New Caledonia.
Scientific Classification
Genus:
Cyphophoenix (sigh-foh-FEH-niks)
Species:

nucele (noo-SEH-leh)
Synonyms
None set.
Native Continent
Oceania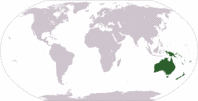 Morphology
Culture
Survivability index
Common names
Lifou Palm
Habitat and Distribution
Cyphophoenix nucele
is endemic only to Lifou Is. (Loyalty Is. chain) New Caledonia - located
around 50 m elevation, in rain forests. Substratum Madreporic on limestone, only endemic NewCal palm occuring on limestone (raised coral).
Description
Hight: 10 to 12 m., with a diam. of up to 20 cm. wide, greenish yellow, Slightly widened towards the base, crown holds up to 8 leaves spreading; crownshaft, 50-60 cm. long, covered with a whitish tomentum, except at the base. Petiole almost non existent. Inflorescences 1-2, 50 to 90 cm. long, spread out and erect a whitish green. Fruit ellipsoid, orange-red when ripe, with a smooth endocarp.
Culture
Very sun tolerant in coastal So-Cal, a fairly easy grow, but a little slow but fastest of the Genera. Hardiness: USDA zones, 10A-11.
Comments and Curiosities
The small, native population of this very rare palm on tiny Lifou Island near New Caledonia is highly threatened by forest clearing, and less than 100 mature trees remain on the island today. Fortunately, C. nucele has many virtues that could make it a very successful palm for cultivation. Seeds sprout readily and plants are easy and fairly fast growing. It will do well in subtropical and tropical climates, is adaptable to a range of soils, and will take some coastal exposure. The Lifou Palm will produce a slender, green trunk, a white crownshaft and a dense crown of dark green, erect, feather-shaped leaves with a very short petiole. (RPS.com)
External Links
References
Phonetic spelling of Latin names by edric.
Special thanks to Geoff Stein, (Palmbob) for his hundreds of photos.
Special thanks to Palmweb.org, Dr. John Dransfield, Dr. Bill Baker & team, for their volumes of information and photos.
Glossary of Palm Terms; Based on the glossary in Dransfield, J., N.W. Uhl, C.B. Asmussen-Lange, W.J. Baker, M.M. Harley & C.E. Lewis. 2008. Genera Palmarum - Evolution and Classification of the Palms. Royal Botanic Gardens, Kew. All images copyright of the artists and photographers (see images for credits).

Many Special Thanks to Ed Vaile for his long hours of tireless editing and numerous contributions.