Basselinia sordida
From Palmpedia - Palm Grower's Guide
Basselinia (bas-seh-lin-EE-ah)
sordida (sor-DEE-dah)

Location: Tchingou, New Caledonia.
Scientific Classification
Genus:
Basselinia (bas-seh-lin-EE-ah)
Species:

sordida (sor-DEE-dah)
Synonyms
None set.
Native Continent
Oceania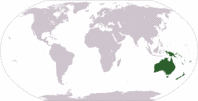 Morphology
Culture
Survivability index
Common names
None.
Habitat and Distribution
Basselinia sordida
is located at altitude on the mountains
of La Mine Centre, GrandeTerre and especially on the west coast of New Caledonia. In rainforest talwegs on steep slopes. Substrate: On more or less eroded soil or debris on ultramafic substrate.
Description
Solitary palm from 8 to 10 m high, with a trunk 10 to 15 cm in diam., Covered with leaf scars, boldly separated by internodes of 2-3 cm. Leaves, about 10 per crown, spreading, about 2 m long; tubular sheath 65-70 cm long, open opposite the petiole, olive green, covered with a gray-brown tomentum outside, light green or cream inside; petiole short, 18 cm long covered with scales of same color as the sheath, gray. Phenology (flower): 1 to 3 inflorescences emerging under the leaves, branches spread to divariquées, 60 x 90 cm, white or whitish gray or dirty. Fruits: Fruit subglobose, 9-10 mm diam., With the stigmatic residue remote in the top third. (From the French). Editing by edric.
Culture
Very rarely cultivated.
Comments and Curiosities
External Links
References
All information, translated from the French, edric.
Phonetic spelling of Latin names by edric.
Special thanks to Geoff Stein, (Palmbob) for his hundreds of photos.
Special thanks to Palmweb.org, Dr. John Dransfield, Dr. Bill Baker & team, for their volumes of information and photos.
Glossary of Palm Terms; Based on the glossary in Dransfield, J., N.W. Uhl, C.B. Asmussen-Lange, W.J. Baker, M.M. Harley & C.E. Lewis. 2008. Genera Palmarum - Evolution and Classification of the Palms. Royal Botanic Gardens, Kew. All images copyright of the artists and photographers (see images for credits).

Many Special Thanks to Ed Vaile for his long hours of tireless editing and numerous contributions.