Actinokentia divaricata
From Palmpedia - Palm Grower's Guide
Actinokentia
(ahk-tin-oh-kent-EE-ah)
divaricata (dih-vahr-ih-KAH-tah)

New Caledonia. Photo by MatNC.
Scientific Classification
Genus:
Actinokentia
(ahk-tin-oh-kent-EE-ah)
Species:

divaricata (dih-vahr-ih-KAH-tah)
Synonyms
Kentiopsis divaricata
Native Continent
Oceania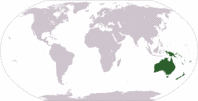 Morphology
Culture
Survivability index
Common names
None.
Habitat and Distribution
The habitat of
A. divaricata
is the low mountainous rain forest of southern and central mainland New Caledonia.
Understory palm of wet forest slopes, from 60 to 1000m (200'-3000'), southern La Grande-Terre, New Caledonia. In the undergrowth of the rainforest. Substrate: Eroded soil or debris on ultramafic substrate.
Description
Palm up to 8-9 m tall; trunk 5 to 9 cm in diameter, with roots visible at the base. A slender gray to light brown trunk with a diameter of no more than 3 inches. A relatively sparse yet attractive crown, and yellow green or brownish crownshaft, the most prominent feature of this plant is what can be a strikingly brilliant red new leaf, at times even more striking than the Chambeyronia. These palms are noteworthy for their gracefully compact and symmetrical structure, with recurved leaves like an elegant umbrella. They are outstanding in any location where they can be seen and appreciated "up close and personal" including an atrium or shopping mall. A slender feather palm to 7m, with a yellow crownshaft, and 4-6 leaves. Leaves 4-7 spread and arching of 1.20 to 1, 50 m; young leaves emerging from the dark red scabbard, sheath 42-65 cm long, bright green or light gray outside, with a long petiole of 60 - 85 cm. Phenology (flower): 2-3 erect inflorescences hardly glabrescent. Fruit: Fruit ellipsoid 2-3 x 0.8 - 1 to 4 cm, red to dark purple when ripe. The new leaf has intense colouration which is not commonly found in palms, either in shade or sun demanding species. The ecological value of such a phenomena is little studied but it is suggested that it is a mechanism to repel leaf-chewing insects. Editing by edric.
Culture
These palms are quite adaptible, with qualifications.
In general, the more their garden resembles their rainforest habitat in New Caledonia, the faster they will grow. In the tropics they are considered to be moderately fast growers.
In warm temperate Mediterranean climates, like Southern California, they are much slower, but will grow well. The more humidity in their home the better. For example, observers in Thousand Oaks, California, which is relatively isolated from the sea, report that this species will produce about a leaf every two years. In areas closer to the ocean's influence, such as La Habra, Calfornia, they are much faster, producing two, three, or more leaves every year.
As with all rain forest species, these palms like a moist, humus-heavy soil, and plenty of water. They will take a surprising amount of sun (more than half a day in La Habra, California) if given plenty of water, like a Chambeyronia. They do not, however, tolerate drying winds well.
Comments and Curiosities
The World Conservation Union (IUCN) has declared this species as threatened, despite the fact it appears widespread in habitat. It is reported to have been used in the 19th century in a similar manner as was the indoor Kentia, and would seem to be well adapted for that use.
Even though one of the more commonly seen palms in New Caledonia, where it is found in rainforests at low and high elevations to 1100 m (3600 ft.), mostly in the southern half of the island, Actinokentia is definitely rare in cultivation, mainly because of the lack of seeds for propagation. It is slow but not difficult to grow and will adapt to most tropical and many warm temperate climates. It is a smallish palm with a slender, solitary, smooth trunk. A reddish crownshaft holds a sparse crown of pinnate leaves which are stunning dark red when unfolding. The showy fruits mature through yellowish to a dull purple. The "Watermelon" form is known only from a small, recently discovered population and displays a very attractively mottled crownshaft. (RPS.com)
External Links
References
Phonetic spelling of Latin names by edric.
Special thanks to Geoff Stein, (Palmbob) for his hundreds of photos.
Special thanks to Palmweb.org, Dr. John Dransfield, Dr. Bill Baker & team, for their volumes of information and photos.
Glossary of Palm Terms; Based on the glossary in Dransfield, J., N.W. Uhl, C.B. Asmussen-Lange, W.J. Baker, M.M. Harley & C.E. Lewis. 2008. Genera Palmarum - Evolution and Classification of the Palms. Royal Botanic Gardens, Kew. All images copyright of the artists and photographers (see images for credits).

Many Special Thanks to Ed Vaile for his long hours of tireless editing and numerous contributions.